There is a brand new Live Game Show in town, Sweet Bonanza Candyland. A new Wheel of Fortune game show by Pragmatic Play. This game show is based on the extremely popular slot Sweet Bonanza. Pragmatic Play has some other Big Wheel games, but this is the first one with bonus rounds and multipliers. The game looks a bit like some other popular game shows such as Crazy Time, Monopoly Live and Adventures Beyond Wonderland. And now Pragmatic Play has their own kind of entertaining Game Show!
This game show is, like I said, based on the very popular slot Sweet Bonanza. This means you can expect a lot of sweeties, candies and lollipops. The studio is filled with bright colors (Pink, Yellow and Blue). The presenters are also dressed like they could be cotton candy.
The basics of Sweet Bonanza Candyland
The game works just the same as a normal Wheel of Fortune game show. There's a presenter that spins the wheel and you predict what the outcome will be. The wheel will spin a little bit longer if we compare it to the Evolution Gaming wheel games. This could be a bit confusing when you play this game for the first time.
You can bet on different numbers and bonus rounds. The numbers you can bet on are 1, 2 and 5. And the bonus rounds you can bet on are:
Candy Drop
Sweet Spins
Sugar Bomb
Bubble Surprise
These bonus rounds can pay you up to 20.000x. If you've managed to bet on the right number on the bonus round, you can win amazing prizes.
The wheel
The wheel has 54 segments. From these 54 segments, there are 45 segments filled with numbers and only 9 of them are bonus segments. The other segments are filled with the numbers 1, 2 and 5. This is really similar if we compare it to other Wheel of Fortune game shows. Below you can find the total segments per number or bonus round.
Numbers:
1 can be found on 23 segments – Drop Probability is 42.59%
2 can be found on 15 segments – Drop Probability is 27.77%
5 can be found on 7 segments – Drop Probability is 12.96%
Bonus Round:
Bubble Surprise has 3 segments – Drop Probability is 5.56%
Sugar Bomb has 3 segments – Drop Probability is 5.56%
Candy Drop has 2 segments – Drop Probability is 3.70%
Sweet Spins has only 1 segment – Drop Probability is 1.85%
Where can I play Sweet Bonanza?
Sweet Bonanza Candyland is a pretty new Game Show, so it's not available at all the online casinos. Don't waste any time looking for an online casino where you can play this game show. We've done all the work for you! In the table underneath you find the Best Live Casinos with Sweet Bonanza Candyland.
Featured Casino – Play Sweet Bonanza Candyland at CasiGO Casino

CasiGO is one of the online casinos where you can play Sweet Bonanza Candyland. CasiGO is an online casino that took a spot in our top list of Best Live Casinos. This is because they offer you Live Casino games from Evolution Gaming and Pragmatic Play. Two of the best live software providers in the business right now! They offer you all the classic casino games and many other versions of these games. And all the available Live Game Shows of course!
It's also possible to claim an amazing Welcome Bonus Package on top of your first 4 deposits. You can get up to €/$1.100 extra bonus money to try the new Sweet Bonanza Candyland! On top of the bonus money, you also can claim 375 free spins on the slot Book of Dead. The 4 deposit bonuses are divided as follows:
1st deposit: 200% bonus up to €/$200 + 100 Free Spins
2nd deposit: 50% bonus up to €/$200 + 50 Free Spins
3rd deposit: 75% bonus up to €/$200 + 75 Free Spins
4th deposit: 125% bonus up to €/$500 + 150 Free Spins
Click here to join CasiGO Casino and claim your €/$1100 +375 free spins Welcome Package.
Key Features & Cons – Sweet Bonanza Candyland
Key Features
Compete New Game Show
Based on the popular slot Sweet Bonanza
Boosted Multipliers available
RTP up to 96.83%
3 Exciting Bonus Rounds
Multipliers up to 20.000x
Cons
Sweet Bonanza Candyland – The Bonus Rounds
Everyone is playing to hit the bonus rounds of course! That's why it's important to understand the bonus rounds before you start playing. These are the chances to get the big multipliers and hit the jackpots! Underneath we will explain what you can expect from these bonus rounds or how you should play them. Most of these bonus rounds don't need any interaction or something, but it's always good to understand what's going on.
Bubble Surprise
When you hit this bonus round you have multiple options. A reel will start to spin and the outcome will determine your prize. You could get a 5x, 10x or 25x multiplier, but you can also get a bonus round. It's possible to get the Sugar Spins or Candy Drop bonus round. This means that the Bubble Surprise bonus round could give you a 20.000x multiplier. If you're lucky you hit the Sugar Spins bonus round of course! You have three extra changes to hit one of the two big bonus rounds, which is pretty interesting if you ask me! You can get the following things from the reel;
The Blue Candy – 5x
The Purple Candy – 10x
A Red Heart Candy – 25x
Candy Drop symbol – The Candy Drop bonus round
Sweet Bonanza symbol – The Sweet Spins bonus round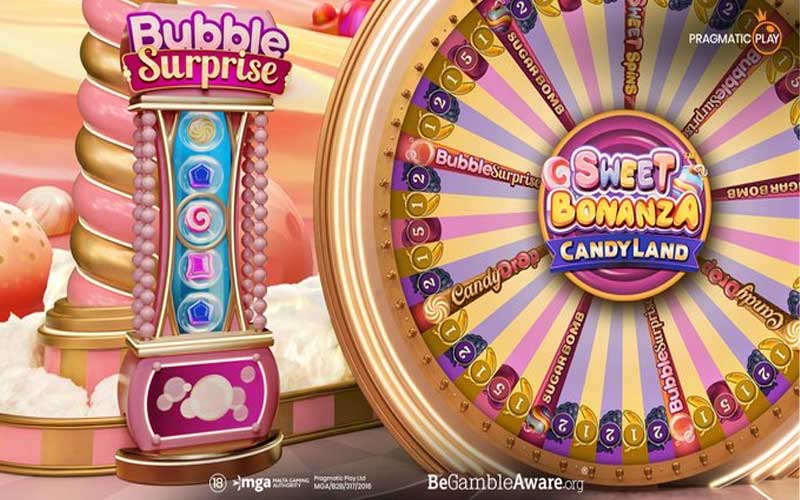 Sugar Bomb
The Sugar Bomb Bonus Round is not a bonus game, but a multiplier. When the wheel lands on the Sugar Bomb segment, the game randomly generates a multipliers from 2x to 10x. This multiplier affects all the segments on the wheel on the next spin. Nothing happens with your bets and you don't win anything. The wheel presenter will spin the wheel again (with your bets from the spin before). If the wheel lands on a segment you've betted on, you win an increased payout. The multiplier doesn't only affect the numbers, it also counts if the wheel lands on a bonus round. So if you're really lucky, you get an increased multiplier on the bonus rounds!
You can't bet on the Sugar Bomb section, but it's totally free to use. But you can decide to increase the Sugar Bomb if it lands, this is called the Sugar Bomb Boost. If you activate the Sugar Bomb Boost, the multiplier will be doubled! You can see it as an optional side bet. You have to pay an extra 25% on top of your bet to activate the Sugar Bomb Boost.
For example: If the wheel lands on the Sugar Bomb (without a Boost) and it shows a 4x multiplier. The 1 will pay 4:1, the 2 will pay 8:1 and so on. The bonus round will also have a 4x!
Candy Drop
When the wheel lands on the Candy Drop section, you activate the first huge bonus round. The presenter will walk to a big RNG wall with 4 rows of multipliers. First you have to choose between one of the three colors (Blue, Red and Yellow). Three colored candies will be dropped through the maze. The maze has some dots and spinning objects that affect the path of the candy.
The candy falls through 4 different rows and these rows could contain a multiplier or a number.
Numbers: The first option within the rows is a number, like +1,+2 and so on. These numbers will increase your multiplier with this number. So if your ball goes through +2, +4, +1 and +5, your multiplier is 12x.
Multipliers: The ball can also go through a multiplier, such as x3 and x4. This will multiply the total multiplier you've got. For example: You've hit a +10, +5, +2 and a x3. You have a total multiplier of 17x, but this will be multiplied by 3. You end up with a 51x!
There are also some purple numbers or multipliers. You can hit a 1.000x if you're really lucky. The ball has to hit all the purple boxes in order to get this multiplier. Pretty exciting, right!?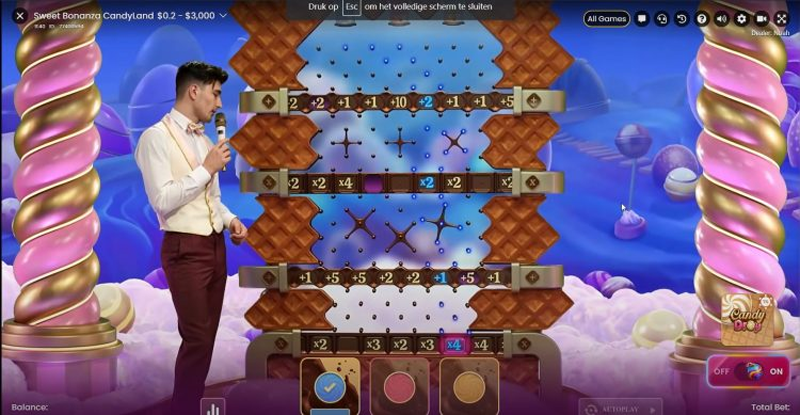 Sweet Spins
This is the Bonus Round where you can really see this game is based on the slot Sweet Bonanza. When you hit the Sweet Spins section, you trigger the Bonus Round of the Sweet Bonanza slot. You get 10 Free Spins for this slot. A 6×5 slot screen opens and the 10 free spins will start. If you don't know how this bonus works, I'll explain it to you.
You start with 10 free spins and 30 symbols on your screen. When you've 8 or more of the same symbols on the screen, you have a hit. Every symbol has its own payout. The symbols will keep dropping as long as you keep hitting the symbols. The spin will end if you don't hit any tumbles. When 3 or more Lollipops appear on the screen, you get 5 extra free spins!
So how can I win with this bonus round? That's a very easy question. Every hit adds a small amount to your multiplier. So the more tumbles you hit, the higher the multiplier will be!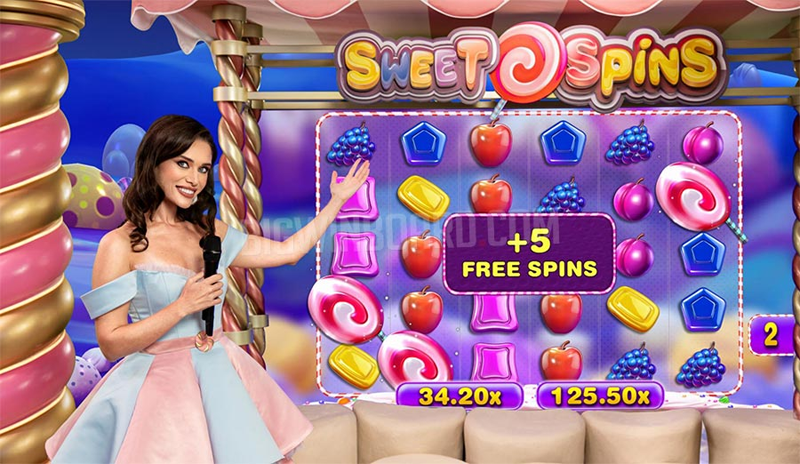 Sweet Bonanza Candyland Strategy
Every player has their own playing strategy when they're playing an online casino game. But when we look at the long term, you have to control your bankroll. I don't recommend you to bet on all segments. You simply lose too much money if you bet on all sections. There are two things we keep in mind when we create a strategy for a casino game and especially for Live Game Shows.
Keep you bankroll as high as possible between the bonus rounds
Always bet on the bonus rounds, these rounds are the big gems!
If I look at my own strategy, I would never bet on all the numbers! My preference is betting 3 units on Number One and 1 unit on the Bonus Rounds (Candy Drop, Bubble Surprise and Sweet Spins).  You'll only lose when number 2 or 5 hits, all other segments could give you some money! Sometimes I bet 1 unit on Number 5. This ensures that you win back your money when you hit Number One and Five. The Bonus Rounds is where you should win your money!
Is the Sugar Bomb Booster a good buy?
I won't bet on the Sugar Bomb Booster if I where you. You have to pay 25% extra on you bet and it only doubles your multiplier when you hit it. The probability of hitting the Sugar Bomb is only 5.5%. So you pay 25% extra over your bet to wait for a segment that hits 3 times every 100 spins in theory.