This review is about an exciting brand-new game of Evolution Gaming. We are talking about Golden Wealth Baccarat, a live dealer Baccarat game Evolution launched in 2021. It boasts an RTP of 98.95%, a high volatility and a fun and nicely designed Asian theme. And once again, the team is trying the multiplier Baccarat concept.
Golden Wealth Baccarat is one of the six games Evolution announced in 2021. And in our opinion, there is a big chance that Golden Wealth Baccarat will become a popular Live Casino game. The game is easy to play, which makes it perfect for starting live casino players who are looking for a fun and exciting casino game experience. In addition to this, Golden Wealth Baccarat is also a great opportunity for experienced players who are looking for a stylish and entertaining classic casino experience.
The game will be available in both a Live Casino edition as well as a First-Person Edition. In this article, we will explain everything about this new Baccarat version. So, if you want to know how to play the game and what features you can expect, just scroll downwards.
Golden Wealth Baccarat features & betting options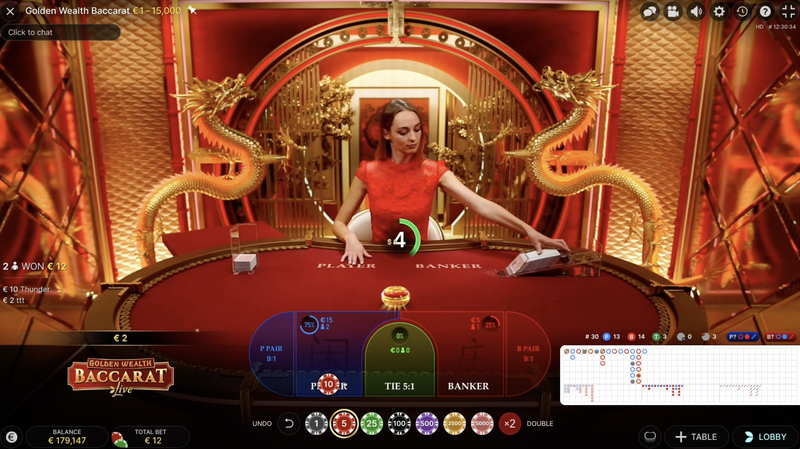 Let's take a look at reasons to play this new Baccarat version. The first important feature is the availability of two side bets: the player pair and banker pair wagers.
These side bets pay if the first two cards drawn form a pair. This added feature can pay anywhere between 9:1 to 576:1, depending on the appearance of multipliers. Furthermore, you find more information about the multipliers.
This counts for other wagers as well. If a player or banker wins, you can potentially win prizes ranging from 1:1 to 512:1. Additionally, 95% of the bankers bet is returned to the player if the banker wins. Ties are slightly different at Golden Wealth Baccarat. If the game ends in a tie, multipliers on both sides apply to enhance the final payout. That is why ties have the most extensive range of possible wins.
The game could end in a simple 5:1 payout. But what makes the game thrilling is the fact that you could get lucky and win a pay-out of 1.310.720:1! That is why Evolution Gaming capped the jackpot at €/$500.000.
Unlock multipliers to win big
During each round five random cards will be selected to become Golden Cards. Each of the Golden Cards have a specific multiplier level which boosts your winnings. In our opinion, this is what makes it extra fun to play the game. It constantly drives the thrill of increasing your winnings. The following multiplier levels can be presented by the Golden Cards:
2x multiplier;
3x multiplier;
5x multiplier;
8x multiplier;
The best feature of Golden Wealth Baccarat is the fact that multipliers are more common in comparison with other Live Baccarat games such as Lightning Baccarat. This pro, and the high RTP, makes Golden Wealth Baccarat a more 'get lucky' version of Baccarat.
Where to play Golden Wealth Baccarat
When the game launches, we will be the first to recommend a few high-quality and reliable live casinos. In general, we expect this game to become available at most of the live casino.
And as you know from us, we review the live casino section of an online casino thoroughly. We will take a look at the available bonuses, other live casino games and mobile friendliness.
So, if you want to play Golden Wealth Baccarat, we advise to frequently visit our website.
How to play Golden Wealth Baccarat 
As you can see in the pictures, the game is played in a gorgeous red and gold studio. And the Asian influence is undeniable, with two golden dragons displayed in the background. But although the design is impressive, in the end it is all about the features and gameplay. So, let's explain how this relatively simple Baccarat game is played phase by phase. 
Betting Phase
The game starts with the betting phase. During each round of Baccarat, you can bet on the Player's hand or the Banker's hand to win. The hand that gets the closest to 9 is the winner of the round. It's as simple as that. Both winners have a pay-out of 2:1.
The third option to bet on is a Tie. This is the outcome when the hand of the Banker and the Player have the same value. A result that pays-out 8:1.
The last and final betting option is the Pair side bet. A player has the possibility to bet on a Pair to appear in the Player's or the Banker's hand. The result gives players a chance of winning 11:1.
Golden Wealth Baccarat allows betting from €/$0.10 to €/$1.000 per round. And a 20% Golden Fee is submitted on top of your total bet. This will be displayed in the interface of the game.
Reveal Golden Card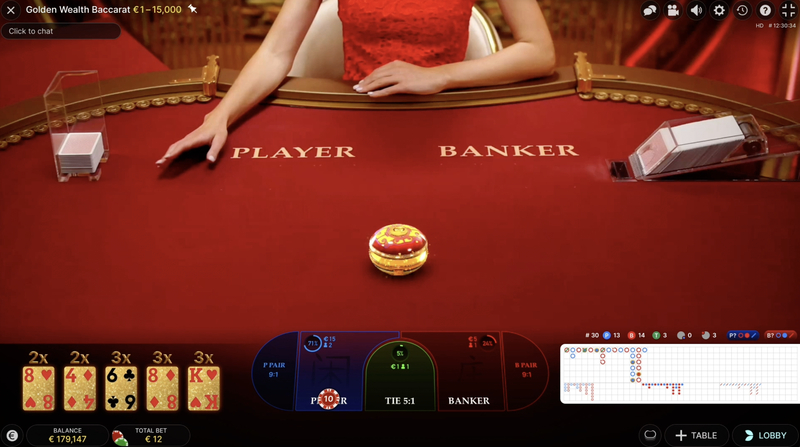 The added value of the game is in this phase. This phase is the so-called Golden Round, which is all about the reveal of the Golden Cards. Each Golden Round picks five cards from a virtual 52 card deck and turns them gold. If one of these golden cards is drawn, it will apply its multiplier on the side it was drawn. For example, if a 3x five of diamonds is drawn on the player side, it will increase any player wins by three times.
Dealing the cards
During the third stage of the game the cards will be drawn. The Player and Banker both get two or three cards, depending on the total value of the first cards. When any Golden Cards appear on the table, they are highlighted to you.
Outcome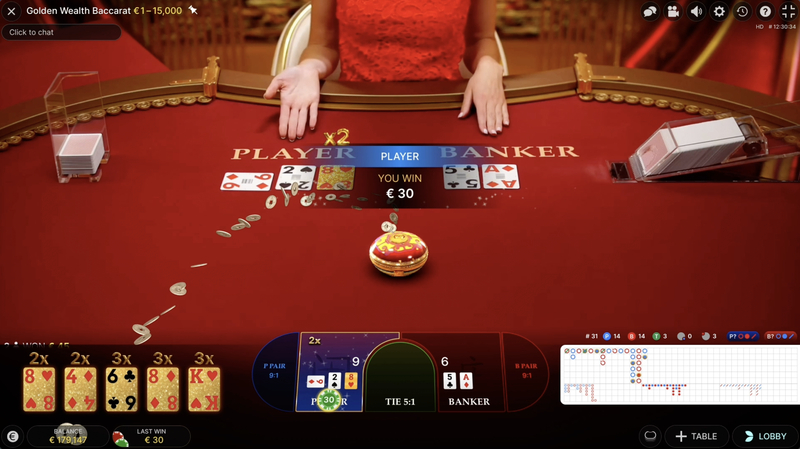 This is when is gets really exciting. When a hand contains a Golden Card, the winnings will be multiplied by the multiplier level, which is being generated at the beginning of the game (between x2 and x8). Multiple golden cards apply several multipliers.
It is possible that a winning hand has two Golden cards instead of one. In this case the winnings will be multiplied again! When a player, for example, has a winning hand with a x2 multiplier and a x8 multiplier then the total multiplier level will be x16. Interesting stuff, right?!
And although it is super rare, it is possibility that a player wins a hand with a total of 3 Golden Cards. In this case, the winnings will be multiplied by all three multiplier levels. In theory, a winning hand could be multiplied by a 512x multiplier level when winning with three x8 multipliers (8x8x8). So, can you imagine what happens when your Tie bet gets multiplied.
The only thing to keep in mind that all winnings during Golden Wealth Baccarat are capped to a maximum of €/$500.000.
Golden Wealth Baccarat pros and cons
Pros
Frequent multiplier hits
The potential of massive wins
Roadmaps are very easy to use
Cons
The Golden Fee increases all your bets by 20%
5% banker commission
Golden Wealth Baccarat specifications and numbers
Golden Wealth Baccarat comes with different RTP's per betting option. Below you see a list of the theoretical payout percentage per betting option:
Player bet: RTP of 98,85%
Banker bet: RTP of 98,69%
Tie bet: RTP of 93,36%
Banker Pair: RTP of 86%
Player Pair: RTP of 86%
As you can see above, a bet on the player to win gives you the best RTP. If you want to play as safe as possible, you should mainly bet on this option. Betting on a Banker's win is a bit lower but quite similar.
Bets on a Tie have an RTP of 93,36%. This is not specifically low, because a lot of other live casino games have lower RTP's. Betting on pairs is probably not the best strategy, but we do understand it. It gives that extra thrill of winning big.
Golden Wealth Baccarat pay-outs
Beneath, you find an overview of the different pay-out at Golden Wealth Baccarat.
Bet
Payout
Player
1 – 512:1
Banker
1 – 512:1
95% of your Banker
bet is returned if
Banker wins
2.85 (3:1 less 5%)
Tie
5-1, 310, 720:1
Player Pair
9 – 576:1
Banker Pair
9 – 576:1
Any
€/$500.000 (max)
Golden Wealth Baccarat hints and tips
At this game, there isn't a real best strategy to share. What cards are multiplied is random, as well as the multiplier assigned to them.
You have two options when it comes to this release from the reliable Evolution Gaming. First, play it safe with player and banker bets. Both bets feature a high RTP.
Alternatively, you can try to risk it and play Tie bets, hoping for a super boosted payout! Which is a real chance while playing this golden game.
Our verdict
At live-casinos.com we do like Golden Wealth Baccarat. This has something to do with the awesome design and interface, and the thrill of winning big is the other part that makes us enthusiastic.
However, the game also felt like Evolution Gaming was retreading some old ground here. Lightning Baccarat is quite similar and about chasing big wins. On the other hand, the execution and experience are totally different. And we do like Lightning Baccarat as well.
The lower volatility of this release makes it better for casual play. However, Jackpot Chasers can still try to win big playing this release. So, if you are a fan of Baccarat, we do advise to try-out this version when it is being released. Stay tuned for updates about the release!
Frequently asked questions
Is Golden Wealth Baccarat worth playing?
We think Golden Wealth Baccarat is an improved version of Lightning Baccarat. The game is presented by professional and attractive hosts. As it basically always is at Evolution games. The game is streamed from a great looking studio and the graphics are very impressive and kind of Asian like.
This Baccarat version comes with added value because of the multiplier wins. The chances of hitting these multipliers are much higher in comparison with Lightning Baccarat. However, at the same time, Lightning Baccarat generates bigger payouts which makes the occasional winning feel amazing. But that doesn't mean you can't win big at Golden Wealth Baccarat. It doesn't really matter if you are a casual player or a high roller, this game should be on your radar.
What is the RTP of Golden Wealth Baccarat?
The Return-To-Player rate, which gives you a perspective about you winning chances, is 98,85% when you bet on a player's win. This is the RTP if you choose the strategy that provides the best chance of winning money. In the review above you can read more about which bet is the best choice if you want to play safe.
Where can I play Golden Wealth Baccarat?
When the game becomes available for you guys, you can play it at most of the Live Casinos we recommend at live-casinos.com. These live casinos generally have a serious Evolution Gaming portfolio, and this game will definitely be added by online casino providers. This has everything to do with the potential of the game. We have high expectations Golden Wealth Baccarat will be one of the most popular Baccarat games out there.
When can we expect the game to become available?
We are not sure yet, but the moment the game will be released, we will update our review and news section, and recommend a few suitable live casinos to try-out the game.
Is Baccarat a difficult game?
No, Baccarat isn't a difficult game. The game is not really about skill, but it is about the risk you are willing to take and friendliness of the cards. At Golden Wealth Baccarat there is the thrill of activating the golden cards and multipliers. Just play the game and in a few minutes, you will know how the game is being played.
If you want to try Baccarat in a demo mode first, we recommend playing in the table section. The table games are not presented by a live dealer but is a nice way to practice without playing with real money. Just select one of the online casinos beneath and look for a Baccarat version to play in a demo mode.
Play other Live Baccarat games at the best Baccarat Live Casinos