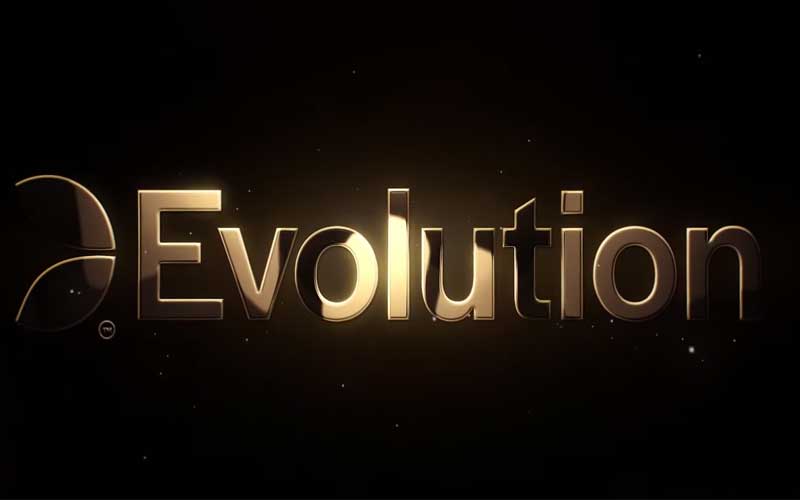 Wednesday 8 February Evolution Gaming announced their plans for 2022, The Evolution Roadmap 2022 is here! The whole Evolution Gaming brand announced in total 25 new games. The Evolution Gaming brand contains other providers like Ezugi, Red Tiger, Big Time Gaming and Evolution Gaming. In this update we only focus on the Live Casino games, from Evolution Gaming & Ezugi.
8 February 2022 – The CEO of the Evolution Gaming Brand starts to talk you through the roadmap of all their brands.
Fredrik Bjurle, the Chief Growth Officer of Ezugi told us more about their six new games. We will discuss these games in this update.
Todd Haushalter, Chief Product Officer of Evolution Gaming showed us seven of the brand new Live Games Evolution Gaming want to launch in 2022.
We are separating the providers below. First we're going to tell you more about the new announced games from Evolution Gaming, after we're telling you more about the new Ezugi games.
Evolution Gaming 2022 Roadmap
Todd Haushalter talked about the plans of Evolution Gaming in 2022. They told us that there will be seven new games, but Todd only talked about six of them. We are trying to tell you as much about these games as possible. When these games come online we will write an review about it of course!
Extreme Lightning Roulette
Most of you are familiar with the game Lightning Roulette. This game is copied by many other software providers and is launched in many different languages.
Now they've created Extreme Lightning Roulette! It's a more volatile version of Lightning Roulette. This game is perfect for the players who are looking for higher and more multipliers. You can win 1.000+ multipliers. If you're looking for a hardcore, but very volatile Roulette game, Extreme Lightning Roulette is perfect for you!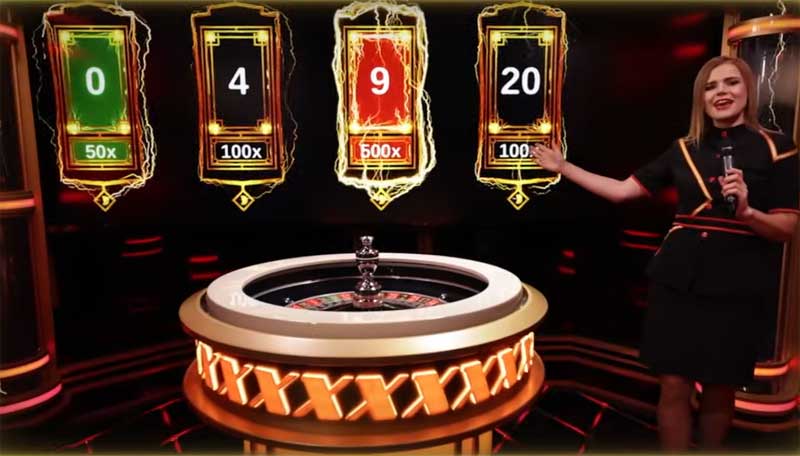 Crazy Coin Flip
Another very popular game from Evolution Gaming is Crazy Time, maybe the most popular game on the internet right now! And what is the most loved part about this game, the Bonus Rounds of course.  Evolution took one of the bonuses and transformed it into a Live Slot. The base game is a slot and when you qualify you go to a Live Bonus Feature. This game is called Crazy Coin Flip!
The slot works just as a normal slot, but you're looking for the 3 scatters! When you hit the 3 scatter you go to the Live Bonus Round. You have to hit as many multipliers as possible, because you take them with you in the bonus round. Let's say you have 20x one side and you have a 30x multiplier from the scatter, you can end up with a 600x. The multipliers can be up to 1.000x. With Crazy Coin Flip they entered a complete new way of online gaming.
First Person Deal or No Deal
The next game in the Evolution Gaming roadmap 2022 is First Person Deal or No Deal. Many of the popular games from Evolution already have their own First Person Game. Now it's time for Deal or No Deal to go First Person. But the best thing about the First Person games is the "Go Live" button. This button will send you directly to the live version of this game. How easy is that!?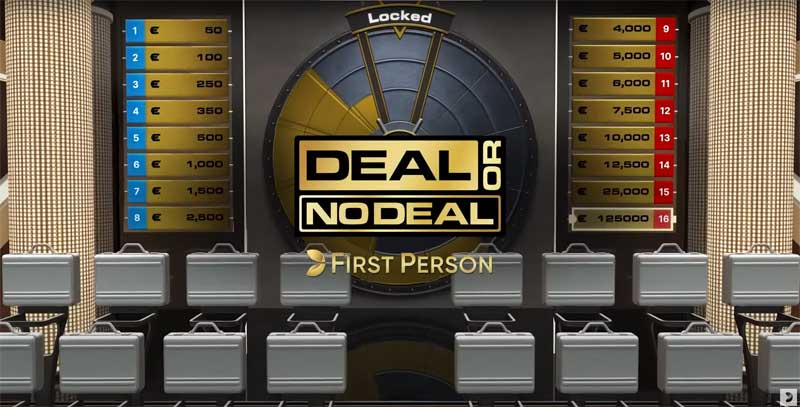 Super Andar Bahar
A game that is also pretty popular among the Indian players in Andar Bahar. You can bet on the Andar side or the Bahar Side. This game was missing in the Evolution Gaming portfolio. But now they've added it, but not just the normal Andar Bahar. They've added an interesting side bet that could give you random multipliers.
The Side Bet is – How many cards are there going to be dealt before we have a winner? If you think it's going all the way to the end of the deck it's going to pay huge! Todd Haushalter thinks that this side bet is better than the main game, which means we can expect something really good!
Todd Haushalter already told us they're going to launch Teen Patti. This is also a really popular Indian game. We didn't see any footage of this game, but I think it's a great addition to Evolutions portfolio.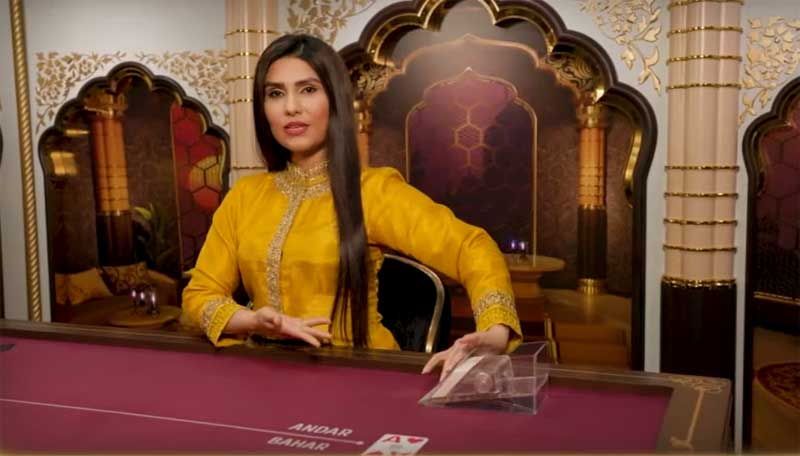 Gold Bar Roulette
The new Gold Bar Roulette should be as least as popular as Lightning Roulette. The sky's the limit? Not with Golden Bar Roulette. You can win multipliers that you can take with you to the next game rounds. The studio looks luxurious and expensive. Everything smells money and big wins when you see Gold Bar Roulette for the first time.
Want to know more about Gold Bar Roulette? We tell you everything we know in the review of this new games.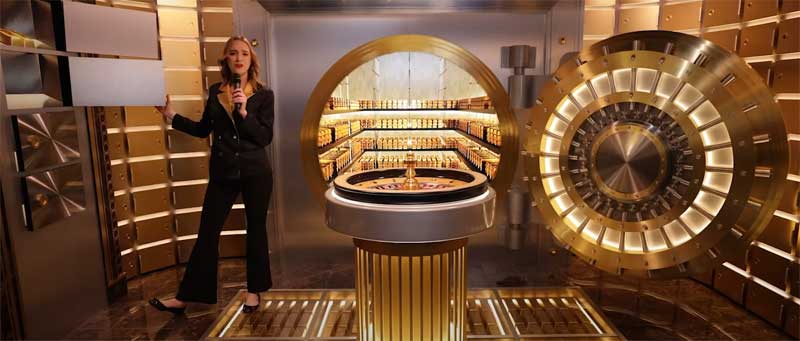 Monopoly Big Baller
What if I tell you Evolution Gaming took two very popular games and put them together into one amazing Game Show. Evolution wanted to do another Monopoly game after the great success of Monopoly Live. That's why they created Monopoly Big Baller! It's a mix between Mega Ball and Monopoly Live, a Bingo-type of game. Mr. Monopoly is also added to the Monopoly Big Baller studio.
Make lines and make money! The player has 4 cards, which you have to take note of. The cards are filled with Extra Free Spaces, Multipliers and other nice prizes. There's also a 3 Rolls and 5 Roll bonus that will take you into the famous Bonus Round. With the 3 & 5 Rolls you can win huge prizes!
We can tell you more about Monopoly Big Baller in the first impression review about this game.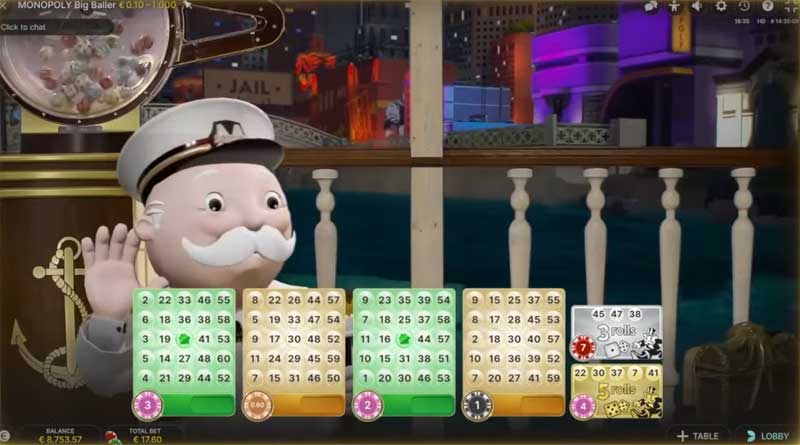 Ezugi Gaming 2022 Roadmap
Ezugi is also part of the Evolution Group. They announced six new games for 2022. We try to give you as much information as possible about these games.
Video Blackjack
Video Blackjack is something that you haven't experienced before. Many players love to use the live chat function to chat with each other. Now it's possible to see each other when you play Live Blackjack. The only thing you need is a working camera on your phone or laptop. I'm wondering how software is handling this brand new software. This is a brand new way of communication between players. The difference between the Online and Land-Based casino is now almost nothing!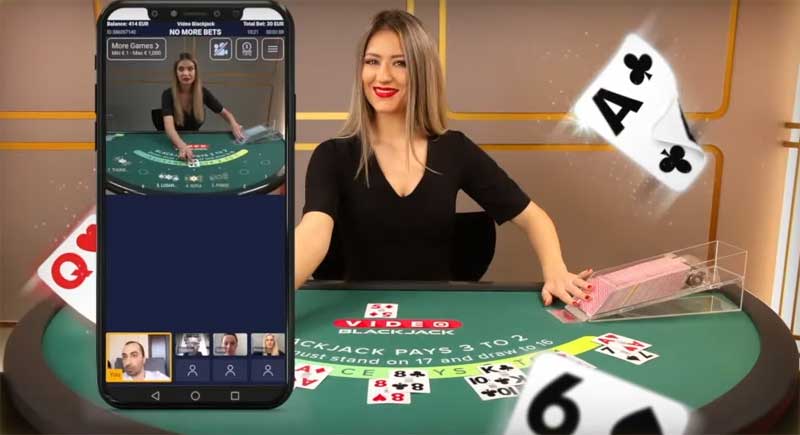 Ultimate Sic Bo
Ultimate Sic Bo is a bit like Evolutions Super Sic Bo. The payouts can go up to 1.000x. A dice game that is pretty popular among the Indian players. You bet on the outcome of the three dice that are rolled. You have tens of betting options and hundreds of different combinations. The more difficult the outcome is, the higher the multiplier will be, for example with Triples.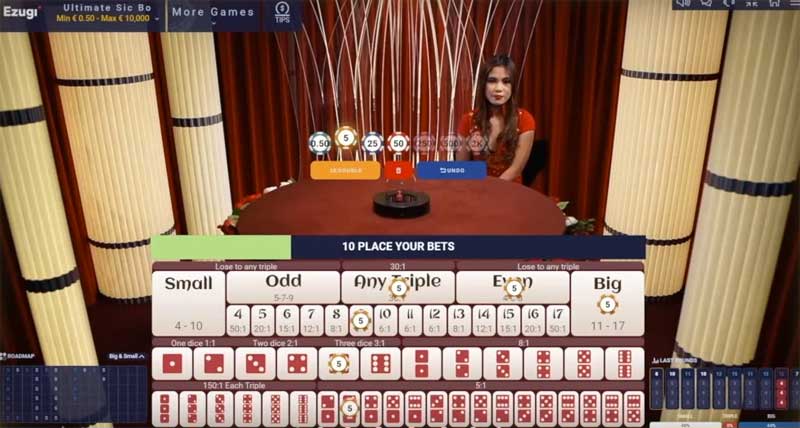 Ultimate Andar Bahar
Andar Bahar is one of the most popular games from Ezugi. The normal Andar Bahar game has a multiplier up to 125x. With Ultimate Andar Bahar is it possible to get multipliers up to 1.200x. If you can predict how many cards there will be dealt before the Joker card, you get a boosted multiplier, this is the 1.200x multiplier.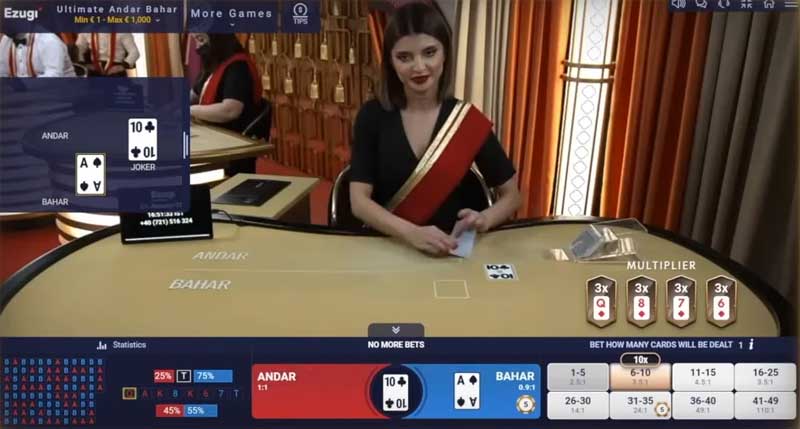 Ultimate Roulette
Ultimate Roulette is a bit like Lightning Roulette. It's a circus themed Roulette game with increased multipliers. They use the European Roulette wheel that gives 5 multipliers per game round. The multipliers can go up to 1.000x, but if you're really lucky can double it to a 2.000x!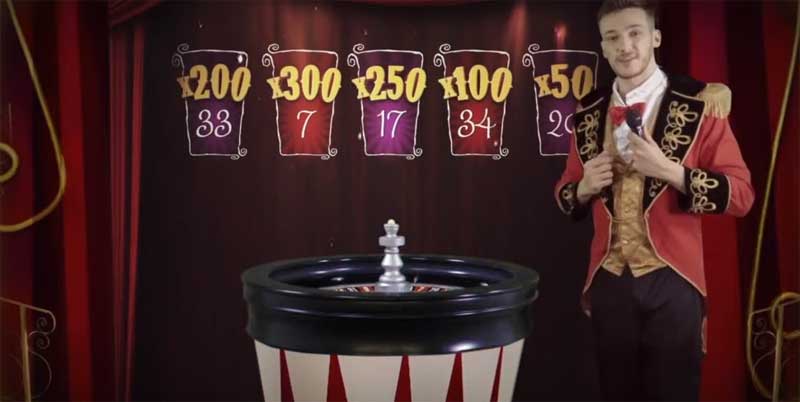 EZ Dealer Roulette
EZ Dealer Roulette is not really a Live Casino game. It's a prerecorded Roulette game with a European Roulette wheel. This is a RNG game, but with all the correct sequences played back.
Ezugi wants to integrate Celebrity dealers into this game. Imagine your favorite celebrity spinning the Roulette wheel. It's also possible to invite a dealer who speaks a different language. Everything is possible with this prerecorded games.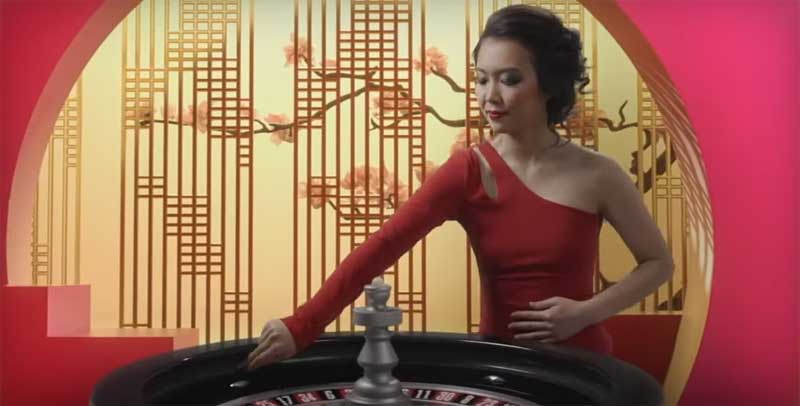 Russian Poker
Russian Poker is not new for some of you. This game was already available in some land-based casinos. This game was missing from the portfolio of Evolution and Ezugi, but in 2022 you can play this game in the Ezugi lobbies!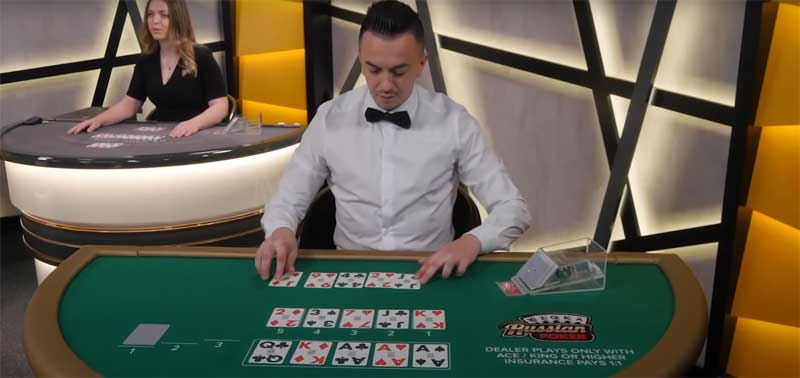 A Comment from Live-Casinos
We are really hyped about this roadmap from Evolution and Ezugi. We think that they really want to expand their position in the market.
Evolution is known for their innovative games. In our opinion Crazy Coin Flip is the most innovative game from Evolution Gaming. The Live Slot is a complete new way of gaming. If you look at the popularity of the games, we expect a lot from Gold Bar Roulette and Extreme Lightning Roulette.
Ezugi took a big step with Video Blackjack. It's the first software supplier that wants to build the social aspects of the game. We've never seen a game with live camera connections before!