Blackjack is one of the most sough-after table games at live casinos. Over the years, it became a fan favourite with gamers across the world. Both at land-based and online casinos. Live Blackjack has developed a cult-like following thanks to its thrilling real casino feel. Casino gamers are no longer under pressure to visit land-casinos.
Nowadays, every respected online casino offers Blackjack games. Not only in the live casino, but also in the table game section. But in our opinion, Blackjack is just that type of game you need to play with a real dealer. In this post, you find a lot of useful stuff if you want to be a successful Live Blackjack player. This starts with the basics: a round of Blackjack. Furthermore, you also find the best live casinos to play Live Blackjack and tips to increase the odd of winning.
Click on the subjects and jump to:
Basic Live Blackjack rules
A round of Live Blackjack
The best live casinos to play Live Blackjack
Live Blackjack strategies
About side bets
Live Blackjack games
Live Blackjack dictionary
FAQ's about Live Blackjack
Basic Live Blackjack rules
Live Blackjack is a game you play against the dealer. The object is to beat the dealer, not your fellow players at the table. There is a total of two ways you can win. Get a hand with a higher total of point than the dealer. Or don't bust before the dealer does. It's just as simple as that.
At Blackjack it is all about the magic number 21. You can't exceed this number of points, and if you hit 21 with only two cards, you win the game straight away. It is completely up to you how many cards you use towards 21. This is how the cards work with Live Blackjack:
Picture cards are 10 points: King, Queen, Jack
Numbered cards are worth their face value: 2-10
Ace is worth either 1 or 11 points. This is up to the player
Besides beat the dealer, the goal is not to exceed 21 points. Then you will bust and lose the game. During a game of Blackjack, the player can decide when he wants to stand. The dealer doesn't have that luxury. The dealer is required to take a card up to 16 points. This not only makes it interesting, but it also gives the player a very good chance to win the game!
A round of Blackjack
To really understand a live blackjack game a bit better, it is helpful to take you along a round of Blackjack.
Start by placing a bet suited to your bankroll. It is also possible to place side bets. Furthermore, you can find information about side bets.
The croupier will deal two cards facing up. The cards are valued at their given number, while 'paint' cards are worth 10 and the Ace is worth 11 or 1. The value will depend on what you need to make 21.
The dealer receives two cards, one face down, one face up.
The value of your cards is determined by the combined numbers. Once you've calculated the numbers value, choose whether you want to hit, stand, split or double down. The dealer will ask you what you want to do after every new card.
Once you've played your cards, the dealer will play theirs last. They tend to hit until they reach a plateau, such as hard 17 or going bust.
Ultimately, you win where the value of your cards is higher than the croupiers and not exceeding 21. Alternatively, you can win where the dealer goes bust and you don't.
As you can see, Live Blackjack isn't a very complicated game. It is a game based on luck, but it also involves some strategy. The most essential part of Live Blackjack is knowing when to buy a card, when to stand and when to double. Furthermore, we will tell you all about the best Live Blackjack strategies.
The best live casinos to play Live Blackjack
Here at live-casinos.com, our sole purpose is to source the best live casino game sites. With the live casino pool growing at a rapid rate, it can be difficult to choose the right site. That's where we come in. Our team of experts visit each site, register an account and test the games. Combined with the game selection, we check out a number of other essential factors we consider. These factors are necessary for a site to be considered a top live casino site. Before we ever publish a review or recommendation, we shortlist each site and converse with each other to determine which sites deserve the top spot. To be positioned on our exclusive list, we take the following into account;
Game Selection
Mobile Compatibility
Security & Safety
Customer Support
Most of the online casinos offer Live Blackjack games. So, the options to play Blackjack with a live dealer online are numerous. Our list of the best live casinos to play Live Blackjack fit all the above-mentioned boxes. These live casinos distinguish in terms of the wide game selection and the HD quality of the Live Blackjack games.
Best Live Blackjack strategies
The most important reason why Live Blackjack is the most popular online casinos game is simple. It has the best odds in comparison with any other game. The house edge in Live Blackjack is only around 0.5%. Another reason why Live Blackjack is popular is the interaction with the live dealer and other players. The house edge of 0.5% is only in effect when players use the 'basic strategy'.
You might wonder what this 'basic strategy' is. It is nothing more than a chart which tells you what to do in different situations. This chart is based on a Live Blackjack game with 4 to 8 decks. Most of the Live Blackjack games are played with 8 decks. It reflects situations based on your own two cards and the dealers upcard. By memorizing this chart and acting like the situations in the chart, it increases your chance of winning. This is just simple math.
These are the possible Live Blackjack actions you find in the 'basic strategy' chart:
Stand (S): you keep your cards and don't take any more
Hit (H): you take another card to add to your hand (total score)
Double (D): you take only one additional card, but you double your bet
Split (SP): when you are holding a pair, you can create two hands. This doubles your bet as well
Surrender (R): you surrender your hand before the dealer hits a second card. Not every Live Blackjack game offers this possibility, because it reduces the house's edge. Normally a surrender returns 50% of your bet
Double/Stand (DS): double if you have to possibility, otherwise stand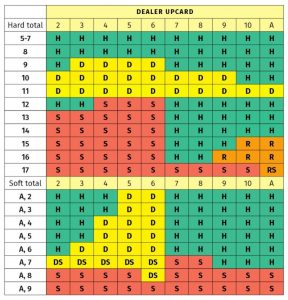 We already know an ace is worth either 1 or 11 points. That is why the chart is split by a hard total and a soft total. With a soft total, players have the opportunity to choose between 1 or 11 points.
The answer to the question if we think players should always follow the 'basic strategy' is no. There is also a thing called the law of probability. If you keep hitting low cards, the chance of you hitting a high card increases. If everybody else at the table hits a low card, you will probably hit a high second card. Our point? We follow the basic strategy, but we do observe and act on different situations.
Live Blackjack side bets
A lot of Live Blackjack games offer the possibility to use side bets to increase your profit. A side bet is an optional bet you can add to your main hand. There are several side bets available in Live Blackjack games. In general, the side bets are a nice opportunity to rapidly increase your profit. Beneath you find the most common side bets.
Perfect Pair: you can bet on whether your first two cards will be a pair
21+3 or Poker: you can bet on whether your first two card and the dealer's up card will be 3 card poker hands
Insurance: if the dealer's up card is an ace you can place an insurance bet. This will pay 2:1 if the dealer has a blackjack
Bet Behind: you bet on other players cards
Click on the link to find more information about Live Blackjack side bets. Read about the details of the side bets. And about our side bet tips and tricks. In this post, you will also find our selection of lives casinos with the best Live Blackjack side bets.
Best Live Blackjack games
Live Blackjack games vary when it comes to the minimal bet that they allow. In general, there are two types of Live Blackjack games:
Low stakes Live Blackjack
High stakes Live Blackjack
If you don't like to play with big money, we advise to search for Live Blackjack games with low limits. There are tables with stakes starting from $1. This is a perfect way to develop yourself as a Blackjack player without losing a lot of money.
There are also Live Blackjack games with maximum bets up to $30.000. So, if you are ready to play with serious money, Live Blackjack games are the way to do it. This is only for players who have a lot of experience playing Live Blackjack and willingness to play for the highest stakes.
Live Blackjack software providers
Most importantly when choosing a live casino site, is the game selection. Although you might be visiting the site with the purpose of playing blackjack, variety is key. A varied live casino selection radiates reliability and a trustworthy quality. Larger online casinos and live casino sites are regularly updating their game collection and even add private rooms to engage in gameplay. Major software providers like NetEnt, Playtech and Evolution Gaming have hit the live casino game ground hard and fast.
NetEnt
Top of our game developer list for live casino games is NetEnt. One of NetEnts newest ventures is NetEnt live. A platform dedicated solely to live Dealer games. With charming and professional real dealers, you can choose from an array of blackjack variants. From NetEnts blackjack collection, you can take your pick of VIP, Common Draw and more. Blackjack at NetEnt is unique thanks to its table of on-screen statistics and the history of the dealer's last ten-hands. This particular gameplay will appeal to gamers with various bankrolls as there's a wide range of table limits. Each NetEnt live casino game is mobile compatible and can be enjoyed via iOS or Android devices as well as through a desktop.
Evolution Gaming
Evolution Gaming offer a myriad of attractive and professional croupiers that you can engage in friendly banter with. This particular provider offers a simple ethic to enjoy the gameplay. Follow the easy-to-use control panel, similar to its online casino counterpart and you're on the way. Added features while engaging include optional insurance, double-down and split pairs as well as full-screen option. Live casino games run at the same pace as a land-casino, but they expect you to react sharply when placing a bet. Blackjack table bets are known to run a little higher than regular table games, so ensure you view the wagering limits beforehand.
Playtech
Playtech opened a live casino headquarters in Latvia in February 2017. The studio is 8,500-sq. ft. and dwarfs existing live casino studios on the market. With almost 20 years-experience in the online casino field, Playtech have catapulted themselves onto the live casino scene. With blackjack and Ultimate blackjack variations, you can expect cutting edge graphics and features from these reputable developers. While participating in Playtech's live casino games, you'll converse with any of their 500 live professional dealers whose customer service is as remarkable as their banter.
It's important to us that you're getting the best blackjack experience while at a live casino. That's why we're confident in recommending NetEnt, Evolution Gaming and Playtech. With almost 50 years between the three software providers, we consider them the top of their league.
Live Blackjack dictionary
Bust – Cards adding up to more than 21
Double down – Knowing your cards, you can double down and put a second bet on drawing another card
Dealer – The live dealer is dealing the card from the shoe
Face down game – Where the cards are dealt facing down
Heads up – One player taking on the croupier
Hit – Asking the croupier for another card
Natural Blackjack – two cards that equal 21
Paint – Slang word for picture card
Soft – A hand where the Ace is valued at 11
Split – If the player is dealt two cards, they can choose to separate them and opt to play two identical bets
Stand – When you take no more cards
Up card – The card the dealer shows
FAQ's about Live Blackjack
Is it possible to count cards?
There'll be sceptics at online casinos and live casinos alike. Some argue because there's a live dealer, they could possibly count cards. This is highly unlikely. Reputable live casinos will have a shoe of multiple decks of cards and shuffle them regularly. This reduces the chances of being able to count cards.
Are the odds the same as those at an online casino?
Very little has changed to the gameplay itself, other than the presence of a live dealer. So, the odds of winning and losing should be around the same.
Are live casino games rigged?
Our recommended live casino game operators are all regularly tested by independent agencies. The site must go through extensive tests before it's granted certain licenses to produce to the consumer.
Is Live Blackjack safe?
Live blackjack is as safe as any other live casino game or online blackjack game. Just like online casinos have RNG's, live casino games have a live dealer and must meet certain criteria by the Gambling Commission. So, if you choose to engage in one of our recommended casinos, you're in safe hands.
Is Live Blackjack also available on mobile devices?
Whether or not you play live casino games through a desktop or mobile device will boil down to two things. Firstly, preference. Some gamers are always on the move, so desktop is not an option. Secondly, whether or not the online casino and the software provider develop mobile friendly material. Thanks to the introduction of HTML5 technology, gamers can now access these live casino games via their internet browser.
Since the departure Flash, players can now expect to engage in glitch free, flawless gameplay through their browser. Internet connection will have a significant impact on your mobile live casino experience. Playing Blackjack on your mobile device means you need reliable network with at least a 3G connection. To guarantee gameplay is free from hiccups, we recommend using Wi-Fi or 4G.