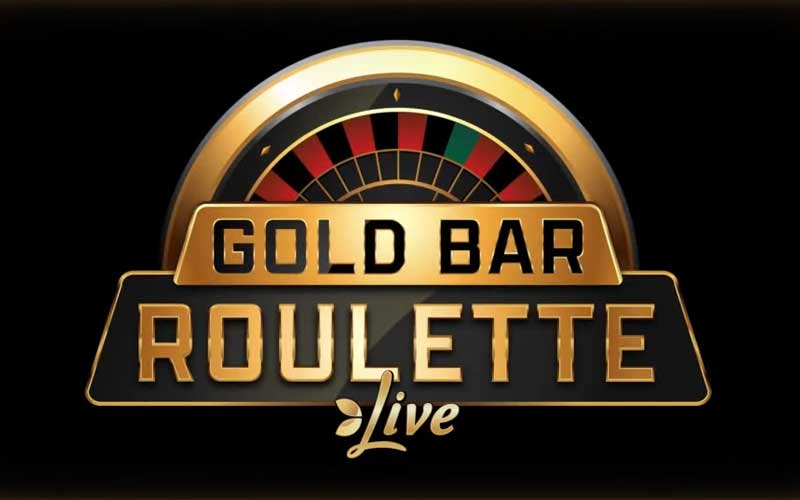 Evolution Gaming announced a brand new Roulette game, Gold Bar Roulette. This game isn't live yet, but Evolution talked about it when they presented the Evolution Roadmap 2022. After the huge success of other Roulette games, like Speed Roulette, Immersive Roulette, Lighting Roulette and Double Ball Roulette it was time for a new banger! They introduced 6 new games from Evolution Gaming, which included Gold Bar Roulette. We don't know the release date of this game, but we keep you informed about it!
This is the first Roulette game Evolution developed since their huge success with Lighting Roulette. Evolution told us this game is going to be huge! The sky's the limit? Not when you play Gold Bar Roulette. De whole game is about collecting Gold Bars. Every Gold Bar has a value of 88x, this can give you great multipliers. You can get up to 20 Gold Bars every spin!
In this article we're going to tell you what we can expect and what we know so far.
What is Gold Bar Roulette?
The Multipliers
Strategies
Our Expectations
Where to play Evolution Games?
If Gold Bar Roulette comes live every online casino wants to offer it to their players. Only online casinos that offer the games from Evolution Gaming can offer you Gold Bar Roulette. But where can you play the Evolution Live Games? In the table below you can find all the online casinos where you can play Evolution games.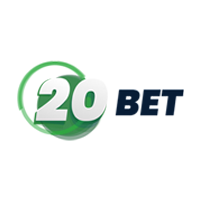 20Bet Casino
100% up to
€120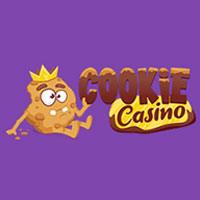 Cookie Casino
100% up to
€100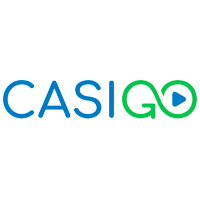 CasiGO
200% up to
€200
What is Gold Bar Roulette?
Gold Bar Roulette is a new Live Roulette game, which will take the Roulette game to the next level. Evolution promised us that we are going to experience multipliers we've never seen before. After a win something magic will happen they said.
When we took a first look at the studio and the looks of the game we were astonished. They definitely put a lot of money and time into this game. We were impressed by the work Evolution Gaming put into this Gold Bar Roulette. The Golden Roulette wheel is placed in front of a gigantic vault filled with gold! It's just like you're in a movie scene.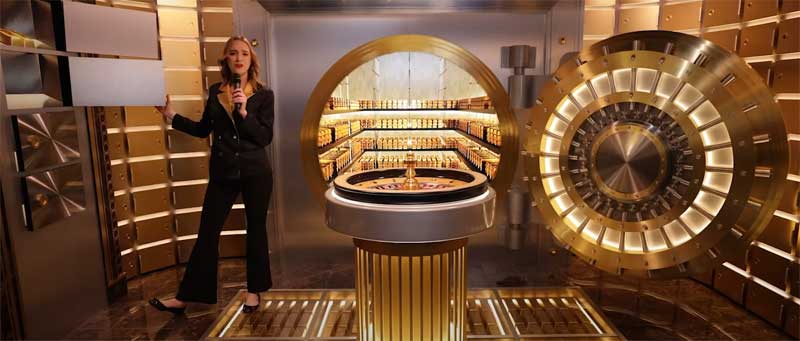 You can see some small lockers containing some gold bars. It's not sure if these lockers have something to do with this game. All in all it's a big mystery what we can expect from it!
A Round of Gold Bar Roulette
Gold Bar Roulette is played with a European Wheel, which means you can bet on the number 1 to 36 and has a single Zero on the wheel. The most players know the wheel from classic roulette. This game looks really like classic roulette, but has some more opportunities.
The goal of the game is to guess the outcome of the spin. Where will the ball land? You can do this by placing Inside Bets (on numbers) or Outside Bets (for example Red/ Black or Even/ Odd). Besides the normal bets you have also the 'side bets'. You can bet on parts of the wheel. You can play for example Zero Game, where you bet on the 0 and the 2 next to numbers on both sides.
Every option has his own payout. The smaller the chance of hitting, the higher the payout is. At Gold Bar Roulette it's all about the Straight-Up numbers, so the single numbers. Only these numbers qualify for the Extreme Multipliers!
How to Participate?
Do you play this game for the first time? You only have one option: Place your bets on the usual Roulette table. You can place the virtual chips that you can find underneath the Roulette Table. Play the numbers that you want to play and if you want to double you can use the x2-option the next round.
After the first spin of Gold Bar Roulette it becomes interesting, because you can't only win cash prizes anymore. After the first spin you can also win Gold Bars. This is an extra reward on top of your normal cash prizes!
After the betting time is over the croupier will through the ball in the Roulette Wheel and the vaults will open. The vault had 4 separate boxes and in this vault there will be 1 up to 20 Gold Bars. The amount of Gold Bars you see are also the amount of Gold Bars you can win. Winning these Gold Bars is pretty easy. If the ball lands on your number, than you win the normal payout (24:1) and the amount of Gold Bars in the vault.
You CAN'T but the Gold Bars, but you can win them!
What are these Gold Bars?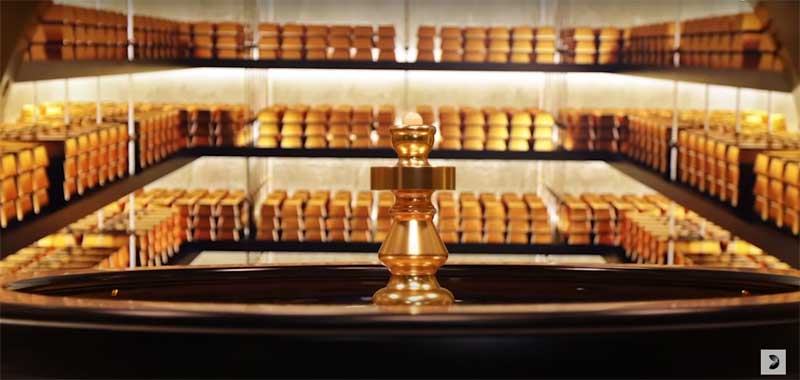 If you have captured an amount of Gold Bars the game becomes pretty interesting for you! A Gold Bar had the value of 88x and will be added to your balance once you've won them. You can save these Gold Bars and spend them on spins later that session.
When you've Gold Bars you have 3 betting options in total:
You can bet your own Chips
Bet with the Gold Bars
Bet Gold Bars and Chips as well
You can use your Gold Bars to bet on single numbers (Straight Up), but you don't have to use them immediately. De payout of the Gold Bars works a bit different in comparison to the normal bet. If you win with a Gold Bar, than you get a cash prize back. The amount of money you win is:
The Gold Bar-Multiplier x The Value of the Gold Bar
If you win with a Gold Bar you also get back one or multiple new Gold Bars. If you've betted with your own chips on this number, than you win the normal payout times the value of the chips.
Do the Gold Bars disappear when you close the game? No, definitely not! The Gold Bars stay on your account up to 180 days. You can play with the Gold Bars up to 180 days after you've won them.
Gold Bar Roulette – The Multipliers
One of the quotes of Todd Haushalter had something to do with "The Sky's The Limit" and how the multiplier will go beyond that. This could mean that there's no limit on the height of the multipliers!
We were told that operators need the Evolution Bonus Engine to run this game. But what does that mean? It means that you can take Bonuses & Multipliers to the next rounds. Future spins can give you increased multipliers and that's some that triggered me. There's one game that already has this feature, Lightning Blackjack. This game takes you multipliers from the previous rounds with you to the next round.
Strategies
Every player has their own Roulette strategy. Even every Roulette game requires another strategy. This new game will also need a new kind of strategy. Because we know just as much as you, we can't give you more information about possible strategies.
I'm sure you'll need some strategy to help you pick the right numbers to get a higher multiplier. But what a good strategy will look like depends on the gameplay of course!
RTP & Payout of Gold Bar Roulette
When you play Gold Bar Roulette you can choose to play with your own balance or with your Gold Bars. If you want to play with you own money, you have to place a minimum bet of €0,50. Evolution Gaming also capped the maximum win to €500.000, which is also extremely high.
The RTP is, like you're used to, pretty high at Roulette games. At Gold Bar Roulette the RTP is 97,10%. This is comparable to other Roulette versions of Evolution Gaming. Keep in mind that this has to do with the higher win chances of the Outside Bets.
The payouts of Gold Bar Roulette is a bit lower in comparison to Classic Roulette. On the other hand there's not much changed. The payout on Straight Up numbers is lowered to 24:1, because you get the chance of winning Gold Bars. You can find the whole list of Inside Bets payouts below:
1 Gold Bar – 88x
Straight Up (1 Number) – 24:1
Split (2 Numbers) – 17:1
Street (3 Numbers) – 11:1
Corner (4 Numbers) – 8:1
Line (6 Numbers) – 5:1
Our Expectations
WE ARE EXCITED! That's an understatement. I can't wait to play this game when it's live. Everything Evolution told us about Gold Bar Roulette sounds interesting. The huge multipliers and the high-class studio. Everything about this game is appealing to me. I think we can expect A LOT from Gold Bar Roulette.
This is everything we can tell you about Gold Bar Roulette right now. I believe Evolution will come with more information within a few months. Make sure you keep an eye on this page if you don't want to miss anything about this exciting game!