Live Casino software
Ever since the first live casino game was introduced in 2006, many online casinos adopted this concept. Nowadays the concept of a live casino game with a real dealer is vastly expanding across the world. And more and more software providers are hosting these games.
Most people think the online casinos provide the live casino games themselves. But the truth is that online casinos cooperate with third parties who own large studios. The live casino games are streamed from these brick-and-mortar studios, that look like a real casino. We call them Live Casino software providers.
Live Casino software providers facilitate everything for players to play against a live dealer, except for the online casino environment. Think about influencing details like:
The studio
Studio furniture
The dealers
Audio
Cameras
Streaming services
Card decks
Optical character readers
Game monitoring
All of the above determines the level of the live dealer game. And just to give you a heads-up: the quality of the software providers can vary a lot from provider to provider. So, it is good to know a bit more about the best live casino providers out there.
Best live casino software providers
The number one software provider of these days is Evolution Gaming. These guys really stand out from the crowd if we look at the stream quality, the level of the dealers and with introducing new, innovative games. Think about live casino games as Dream Catcher and Lightning Roulette.
Evolution Gaming comes with the widest game offer and they simply provide the best players experience. And to prove that Evolution Gaming is the biggest fish in the ocean, they recently acquired NetEnt for a 'small' investment of $2.1 billion dollar.
The fact that Evolution Gaming is a great software provider doesn't mean there are no other software providers we recommend. At live-casinos.com, we also love to play live games from Playtech and Ezugi. Especially Playtech is a close competitor to Evolution Gaming in the industry. They host their games from awesome studios in Latvia, they offer great streaming quality and really raise the bar with a smart game portfolio.
Ezugi is also a strong competitor, because they offer games that few other providers can match. And besides their exceptional game portfolio, Ezugi also distinguish in terms of Turkish, Spanish and even Russian speaking Blackjack and Roulette tables.
What to consider when choosing a software provider?
We already talked about the details and tools that affect the quality of the live casino games. Some of these details will stand out immediately, while other details take a while to notice. That is why it is good to focus on the most important features.
Stream quality
The software providers we recommend all work with the highest quality streams in the world. The live dealer games are transmitted in HD quality streamed by the best high-speed servers available. Because we understand the worst thing that could happen is a stream failure when you are ahead. With our recommendations you have the guarantee to fully enjoy the rush of a live gambling experience directly from your home. Without breaking any sweat about the quality of the stream. Or maybe just the one in your home? No, just kidding. Just enjoy live casino games with the best streaming quality.
Dealer competence
You might think a live dealer is a live dealer. But the opposite is true. There are a lot of croupiers out there that don't meet our expectations. The role of a croupier is very demanding. They need game skills and knowledge, intelligence, quick thinking and great communication skills. And it doesn't hurt if they are nice to look at, right? For example, a software provider like Evolution Gaming pays a lot of attention to the level of their live dealers.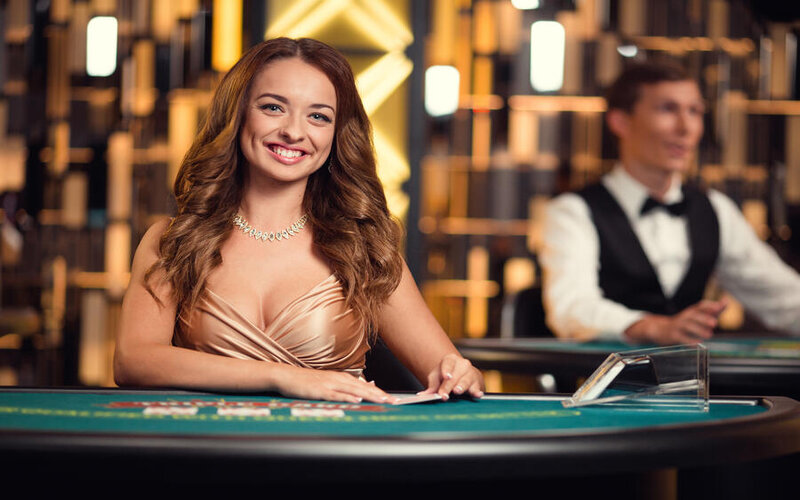 Game selection
Every gambler has its own favorite live casino game. And the advantage of playing online is the variety in games like Blackjack, Texas Hold'em or Baccarat. The best software providers succeed in offering those game variations gamblers are looking for. Games that are an actual addition to the big offer there already is available. And with the quality we all expect. Think about games like Infinite Blackjack by Evoluton Gaming or Speed Baccarat by NetEnt.
Device compatibility
One of the major advantages of playing live casino games instead of playing in a land-based casino is the fact that you can gamble from any location you want. Using any device available at the moment. We believe all live casino games should work perfectly on all devices. This includes mobile phones. Luckily, most of the software providers nowadays make sure players experience a flawless gameplay with any device.
Live Casino software provider reviews
The pool of software provider is a lot bigger in comparison with 15 years ago. At Live Casinos, we try to review the games from different software providers as much as possible. Furthermore, you find a short and sweet summary of our experiences with the different software providers. We always focus on the software providers with a strong focus or large offer in live casino games.
After playing live casino games for a long time, we all developed our software provider preferences. And because we understand players want to play games from a preferred provider, we added some online casinos where the games from that provider are available.
We want you to keep in mind that the reviews are based on the opinion and experience from our enthusiastic team of live casino players. It is not written in stone, because software providers can develop from 'not so impressive' to 'very attractive and professional' within a few years.
Reviews software providers 
Asia Gaming
Authentic Gaming
Evolution Gaming
Ezugi
LuckyStreak
Microgaming
NetEnt
Playtech
Pragmatic Play
Vivo Gaming
Asia Gaming
Asia Gaming is known to be have a big focus on Baccarat games. This is no surprise given the fact that Baccarat is one the of the most popular games in Asia. The games from Asia Gaming are hosted from the Philippines and offer pretty good stream quality. Besides Live Baccarat they also offer multiple English speaking Roulette games. All hosted from classy looking studios. The only downside we experienced is the lack of interaction with the live dealers. In our opinion the interaction is one of the fun parts of playing casino games with a live dealer.
Authentic Gaming
Although Authentic Gaming is a relatively new player in the live casino world, they already created a name as a mobile focused online casino. According to some serious players, they stand out with the next generation in mobile live dealer games. So, regardless of the device, players will experience a flawless HD quality. Authentic Gaming at this moment is also one of the few who stream Live Roulette games from a real land-based casino. This gives us a real unique and authentic feeling. What's in the name, right?
Evolution Gaming
The best live casino software provider out there. Evolution Gaming comes with the widest range of live casino games, the best stream quality and exciting innovations. And the fact that they professionally train their dealers improves the real live casino experience. Evolution Gaming lead the industry and with the running innovations, we expect them to keep doing this for a long time. We highly recommend playing games from this software provider.
Ezugi
We consider Ezugi to be one of the few real challengers of Evolution Gaming. We would definitely recommend playing a few games from Ezugi to witness the high-end quality. Ezugi expanded over the last years and now own multiple studios in countries like Bulgaria, Belgium, Costa Rica, Cambodia and Spain. Ezugi even offer Turkish, Russian and Spanish native speaking Blackjack and Roulette tables. And a fun fact: Ezugi is the only live casino provider legally operating from the US.
LuckyStreak
LuckyStreak is a software provider who is established in 2014. After playing their Live Roulette, Blackjack and Baccarat games we've come to our verdict. Although the table count is limited, LuckyStreak offer games with excellent stream quality, professional good-looking dealers and excellent game interface. We have no complaints about the mobile compatibility and the Latvian or Lithuanian studios look decent. They currently offer English and Russian native speaking live casino games. Our team especially loved the LuckyStreak Live Blackjack game with multiple side bets options.
MicroGaming
Given the fact that MicroGaming was the software provider who introduced the first live dealer game, they kind of missed the chance to extend their lead. MicroGaming was founded in 1994 and they have been pioneering ever since. Nowadays, they offer solid live casino games in basically all popular live casino categories. MicroGaming made their games available in over 20 languages. But in terms of innovation and remarkable Roulette or Blackjack variations, MicroGaming just score a bit above average. The Casino Hold'em and Sic Bo however are worth playing.
NetEnt
We believe the best of NetEnt lies in the future. NetEnt is especially known for their awesome online slot creations. But ever since NetEnt is acquired by Evolution Gaming, we expect that the live casino game offer of NetEnt will develop into a more noticeable one. The game portfolio of NetEnt is currently limited to Live Blackjack and Roulette. But without a doubt, this will change. We are excited to see what difference the acquisition will bring about.
Playtech
This software provider could be described as the closest competitor to Evolution Gaming. With a large, high-quality and innovative game offer Playtech is the real deal. They own brand-new live casino studios in Latvia which are used by professional dealers. We haven't experienced any inconvenience while playing Roulette, Blackjack, Baccarat or other games from Playtech. Just solid gameplay, both on desktop and mobile. Nowadays they own multiple native tables, also in Spanish, German, Turkish and French.
Pragmatic Play
Pragmatic Play is one of the relatively new software providers with an offer in live casino games. They quickly developed into a serious player with over 120 online casinos using their products. The live dealer games from Pragmatic Play are streamed from both studios, located in the UK, and real brick-and-mortar casinos. At Pragmatic Play they call these real casino streams a 'Live Box'. This does give us that real charming casino feeling. The live dealer games are streamed without any hassle and they are broadcasted in HD-quality. And with the added live chat functionality, it is possible to interact with other gamblers at the virtual table.
Vivo Gaming
Vivo Gaming is another software provider with a focus on live casino games. Their current game offer is both complete and confusing. Let's explain complete first. Besides the live casino 'big 4' categories, they also create Live Dragon Tiger, Craps, Sic Bo and Live Bingo. So, this pretty much covers all the needs of our followers. The confusion part has everything to do with the difference in quality.
While most of the games have a good interface, gameplay and stream quality, some of the games feel a bit amateurish. We have experienced some problems in the past with responsiveness and inactive buttons. But this is not that common anymore. Vivo Gaming might just be a rising star, learning from their mistakes.