This review is about Live Casino Hold'em. A table game based on the classic Poker game Texas Hold'em. The main difference is the fact that a limitless number of players go against the dealer instead of the head-to-head principle of Texas Hold'em.
But this doesn't make it less exciting! Live Casino Hold'em is one of our favorites and not without reasons. Let's just name a few of them:
You play against and interact with a real-life dealer
It has a great RTP of 97.84%
You experience the game in HD video streaming quality
Play from wherever you want
The odds are better in comparison with a brick-and-mortar casino
Boost your balance with a live casino bonus
In this post you find everything you need to know about this Poker game. Including the best Live Casinos to play Live Casino Hold'em and the Poker Hand Rankings.
Best Live Casino Hold'em Casinos December 2022
In the table above, you find 10 live casinos offering Live Casino Hold'em. All casinos listed in this table are 100% safe. We have tested and reviewed these casinos on the following criteria.
Live Casino Hold'em availability
Live Casino game portfolio
Available bonuses for live dealer games
Customer support
Payment and withdrawal options
Reliability of the software and company
Live Casinos that get a negative score are not listed by us if they fail on one or more criteria, because we only want to list the best live casinos for you.
If you want to play Live Casino Hold'em, you can choose a listed live casino. The only thing you need to do is to open an account at the casino and make a real money deposit. In the table you can see what kind of live casino bonuses you can collect.
How to play Live Casino Hold'em
A game of Live Casino Hold'em starts with your bet. You decide how much money you want to spend in the Ante button. It is also possible to place coins in the two bonus circles if you want to place side bets. On the screen you will see a list of coins and you can choose one of them. The timer ticks down as you wager, telling you how much time you have until the game begins.
The game starts with the dealer drawing two cards for the player and two cards for itself. The dealer will also place three cards on the table. The game interface will automatically highlight the cards you have, and the strength of your cards. Furthermore, you can see the hand rankings of poker.
You can now choose to call and keep playing or fold if you think your hand does not have a proper winning chance. Two more cards will be drawn after this, and then the dealer reveals their cards. The player or dealer with the stronger hand wins!
The dealer also needs to draw at least a pair of fours to qualify for the round. If the dealer fails to qualify, then it is an automatic win for the player. This is not common, but it can happen.
A round of Live Casino Hold'em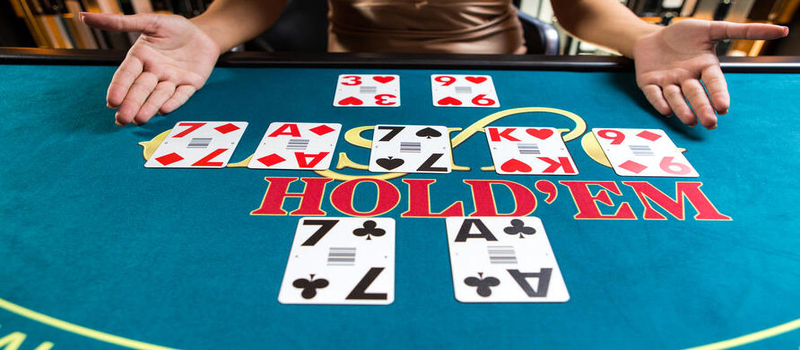 Now we know how to play a game of Live Casino Hold'em, let's take you through a round of this awesome poker game.
Place a bet – Place a bet on the Ante bet. An optional bonus bet can also be placed at most of the Live Casino Hold'em games. Furthermore, you can find variants from three game providers.
Two cards face down – The dealer will now deal every player two cards and two-face down cards to themselves.
Three cards face up – Three community cards (cards every player can use) will be dealt on the table (face up). All players can use these as common cards to combine towards the best hand.
Call or Fold – You can now 'Call' or 'Fold'. If you call, you continue the round by placing a call bet that is equal to your Ante bet. Fold and the round ends and you will lose the bet. If you've made a bonus bet, you must call to receive a payout.
Turn and River – If you've called, the dealer will deal two further face up cards. These cards are also common. These cards are called the 'Turn' and the 'River'. In contrast to Texas Hold'em, both cards are dealt the same time.
Revealing dealer's cards – The dealer will now reveal the initial two cards.
Beat the dealer's cards – All hands or the players are compared to the dealer. The players who beat the hand ranking of the dealer will win.
Poker Hand Rankings
The higher your hand ranking, the more chance you have to beat the dealer. Beneath you find an overview of the poker hand rankings.


Game outcomes
There are multiple outcomes possible after a game of Live Casino Hold'em. At most of the games the player or dealer will lose and a 1:1 payout will take place. But it is also possible that the player claims a bigger pay-out. Beneath, you find the possible outcomes.
The dealer qualifies (a pair of 4's or better) and the player has a better hand, the player will win. In this case, the dealer pays the Ante bet and the call bet at even money 1:1.
The dealer doesn't qualify, so the player automatically wins. The dealer will pay the Ante bet.
If the dealer beats the player, the player will lose its bet.
A push (tie). This is the outcome if the dealer and player have the same value of their 5 cards.
Payout tables
Another 'pro' to play Live Casino Hold'em is the possible pay-out. You do not only have the chance to win a standard 1:1 sum. If you have a strong hand, you can even win more money. This varies from game to game, but the most common pay table is the following:
Royal Flush – 100:1
Straight Flush – 20:1
Four of a Kind – 10:1
Full House – 3:1
Flush – 2:1
A bonus (AA) bet is based on the value of the player's two cards and the first three cards from the flop. This side bet is optional but can potentially bring you more winnings. It pays out the following:
Royal Flush – 100:1
Straight Flush – 50:1
Four of a Kind – 40:1
Full House – 30:1
Flush – 20:1
Pair of aces to a Straight – 7:1
House edge and the best strategy
We are happy when you are happy. So, it's important to us to help you win money. That's why we advise some of the best live casinos to play Casino Hold'em. And that's why we share the best possible strategy with you.
Let's start by mentioning the house edge. This tells you something about your chances. The house edge, apart from the side bets, is around 2.16% for the Ante pay table as listed above. Some of the live casinos tweak the pay table slightly, but in general the house edge at Live Casino Hold'em ranges from 2 to 2.4%.
As it is for all poker games, choosing a best strategy is difficult as the optimal decision is based on the combination of all seven cards dealt. A computer can calculate the best plays, but there are no set of general rules like they exist for Live Blackjack. Unlike a regular game of Texas Hold'em Poker, you should only fold the worst 18% of hands. Otherwise, you will not win you this game. This is the most important advice we can give you.
Next to this crucial tip, you have the best winning chance if you:
Always raise with a pair, an Ace high or King high
Raise with a Queen or Jack high, unless the board is single suit, and you don't have a matching suit
Always raise with two over cards (your two cards are higher than the 3 visible on the board)
Always raise with a flush or straight draw
Fold against a paired board when you only have 10 high or worse, unless you have a straight or flush draw
Fold unpaired low cards that don't leave you with a chance of straight or flush draw
These strategy tips will increase your winning chance. On the other hand, poker is a game of gut feeling and instinct. That is why we sometimes love to place a side bet occasionally and go for the big wins.
Live Casino Hold'em game providers
Live Casino Hold'em is available at multiple game providers. Each with their own pros and cons, but with the same payouts and playing rules. The game providers that offer Live Casino Hold'em are Evolution Gaming, Playtech and Ezugi.
Our favorite is the variant from Evolution. The interface and stream quality are top notch, as we know from Evolution. And the addition of a Progressive Jackpot betting option makes the game more thrilling than it already is. The Progressive Jackpot side bet cost only €/$1, and the current Jackpot Value is around €/$3.800.000.
Pros Casino Hold'em by Evolution Gaming
Superb dealers, interface, and stream quality
Availability of Progressive jackpot side bets
Easy to see how strong your hand is
Casino Hold'em by Playtech
Playtech offers two Live Casino Hold'em tables. One of them is streamed from a Latvian studio, and the other studio is in Romania. The user interface and streaming quality of the games from Playtech are also flawless. However, we prefer the dealers from Evolution a bit more.
Casino Hold'em by Ezugi
The last Live Casino Hold'em game provider we reviewed is Ezugi. The tables have a similar look and feel in comparison with Evolution's variant, and it runs smoothly on each device. The game is a good alternative for Evolution Casino Hold'em and available at one of our favorite Live Casinos, LeoVegas. Players from the UK, unfortunately, can't play at this live dealer table.
Game details
Software providers: Evolution Gaming, Playtech, Ezugi
RTP: 97.84%
Decks: 1
Minimum bet: €/$1
Maximum bet: €/$500
Maximum pay-out: 100:1
Chat with live dealer: yes
Other Live Casino Poker games
Live dealer poker seems to be gaining quite a lot of momentum over the last couple of years. We see Evolution Gaming offering several types of casino poker next to Live Casino Hold'em. This includes Three Card Poker, Caribbean Stud and Texas Hold'em Bonus Poker. Since 2021, other game providers like Ezugi, Playtech and BetGamesTV also developed some variations besides Live Casino Hold'em. Below you'll find an overview of all poker-based games we could find at Live Casinos listed on this site.
Casino Hold'em Jumbo-7
2 Hand Casino Hold'em
Three Card Poker
Caribbean Stud
Ultimate Texas Hold'em
Texas Hold'em Bonus
Frequently Asked Questions
Can I play Live Casino Hold'em for free?
Normally, you can't. At least, not against a real live dealer. Regular online poker and tables games are available in a demo version, which can be useful for practice. These games are run by random number generators. Reliable, but not the real deal.
However, there are some tricks to play Live Casino games for free. You can find more information in our Free Live Casino sites post.
Can I play Live Casino Hold'em on a mobile device?
Yes. The game runs the same way as a desktop version and the odds are the same. Some of our experts even prefer the mobile version. However, you do have the best streaming overview on a desktop version.
Is there a best strategy available to increase my winning chances?
Yes, there is. In this post, you will find a clear explanation of the best strategy towards beating the dealer. Remember to only call when you've hit a strong hand.
What are the best Live Casinos to play Live Casino Hold'em?
In this post, you find our selection of the best live casinos to play this famous poker game. The below top 5 all are fully reliable, have top security and a great bonus offer: