Evolution Gaming developed an online version of the world's best loved board game. At a lot of reliable online casinos you can now play Monopoly Live. There is no need to find a group of friends to play Monopoly. At online casinos you can now play a money wheel variant of the popular game.
Monopoly Live is not only based on the board game. It is also a better version of the popular game Live Dreamcatcher. This game actually is a version Dreamcather with unique Monopoly Game elements.
You can bet on the wheel stopping on numbers. But there is more, on the wheel you also find "CHANCE", "2 ROLLS" and "4 ROLLS" segments. When you bet on these you can activate a 3D bonus game. You can win up to 10.000 times your bet value when a bonus game is activated.
On this page we are going to tell you more about Monopoly Live.
Online Casinos with Monopoly Live
In the above table you find 10 live casinos with Evolution gaming games. All casinos listed in this table are 100% safe and reliable. Our team of experts have tested and reviewed each casino. We test live casinos on the following criteria
Live Casino portfolio
Available bonuses for live dealer games
Customer support
Payment and withdrawal options
Reliability of the software and company
When a live casino scores a positive review on all above criteria it gets listed on our website. We don't list casinos that get a negative score on one or more criteria because we only want to list the best live casinos.
If you want to play Monopoly Live you can choose a listed live casino. You only have to open an account at the casino and you have to transfer money to your account. In the table you can see what kind of live casino bonus you can collect at each casino. In order to collect a bonus you have to make a real money deposit with one of the available payment methods.
Table of Content
Casinos with Monopoly Live
Key Features
How to play
Bonus Game
Key Features & Cons Online Monopoly Live
Key Features
Unique Live variant of Monopoly
Real live action
Win up to 10.000x your bet value
96.23% Return To Player Value
Available for all types of players
Increase winning chances with bonuses
Cons
This game is addictive
Not All casinos offer Monopoly Live
How to Play Monopoly Live
The Monopoly Live Wheel is divided in 54 segments. 48 Of these segments are marked with numbers. On the segments you find the numbers 1, 2, 5 and 10. the other segments are marked with "CHANCE" (2x), "2 ROLLS" (3x) and "4 ROLLS" (1x).
On your screen you can place bets (see screen below). You can choose the amount you want to bet by selecting a chip with a value in it. Click on the number (Monopoly money ticket) you want to bet on. The game adds the amount you have selected on the number. Click twice when you want to double your bet amount.
You can bet on all segments except "CHANCE".
Payouts
1 = 1x your bet
5 = Pays 5 to 1 (5x your bet)
10 = 10x your bet
CHANCE = Cash Prize or a Multiplier Bonus
2 ROLLS = Activate bonus game
4 ROLLS = Activate bonus game
After you have placed your bets the game host spins the Monopoly Wheel. The flapper on the top of the wheel indicates the winning segment. Ofcourse you have to wait till the wheel has fully stopped. You win money when the wheel stops on a number you have bet on. When the wheel stops on another segment it opens up an extra opportunity to win money for all players.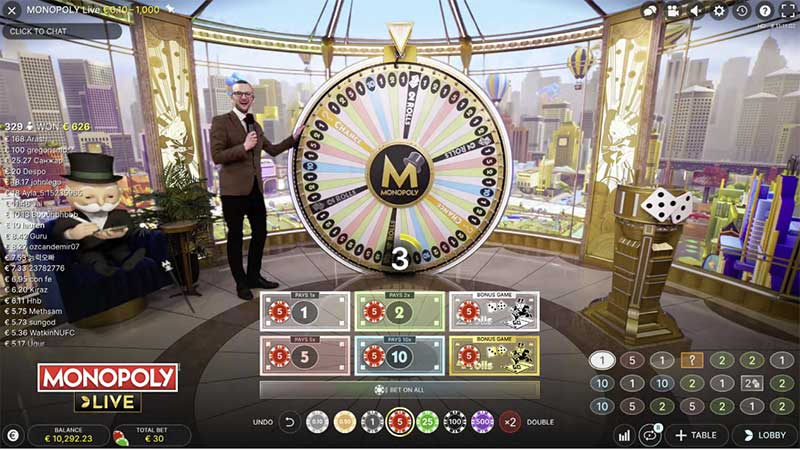 Win extra money with "CHANCE"
Hitting the "CHANCE" segment is super interesting. When Mr. Monopoly spins the wheel and it stops on the chance segment a bonus feature starts for all players.  All players see a chance card on their screen. This card will show you a random cash prize or a multiplier.
When Mr Monopoly hits a cash prize you win this prize. After you have received the cash prize the game start over again. All bets will be removed from your screen. You can start betting again.
If the card shows a multiplier your bets will be freezed. Now the game host spins the money wheel again. When the wheel stops on a number you have bet on you not only win the normal prize. Your prize will be multiplied with the multiplier you received on the chance card.
It gets more interesting when you hit another multiplier. Mr Monopoly spins the wheel again. Now your winnings are multiplied by both multipliers. The first multiplier will be multiplied by the second multiplier.
When you hit a bonus game during the second spin your winnings made during the bonus game will be multiplied by the multiplier on the chance card.
Bonus Game
The Monopoly Live bonus game will start when the wheel stops on one of the following segments: "2 ROLLS" or "4 ROLLS".
You can only enter the bonus game when you bet on "2 ROLLS" or on "4 ROLLS". If you don't bet on these segments you can only watch the bonus game but you can't win any money.
When the wheel stops on any of the 2 bonus segments Mr Monopoly stars his adventure in the 3D Monopoly world. You actually see the famous board on your screen. Mr Monopoly rolls the dice. Your bonus game stops after 2 rolls when you have bet on "2 ROLLS" and after 4 rolls when you have bet on "4 ROLLS" . You receive addictional rolls when a double is rolled. All dices are rolled on your screen in the live studio of Evolution Gaming.
After the dices are rolled Mr Monopoly starts walking on the 3D board. He walks the total of the two dice.  All qualifying players receive cash prizes at each stop where Mr Monopoly lands after the dice are rolled. If you roll 2 same numbers on the dice you get an additional roll. Extra rolls will end up in more winnings.
On your screen you will see all your bonus winnings. You receive all winnings when the bonus game is over. The bonus game is over when there are no more rolls left. All winnings are paid directly after the game ends. The game ends and you go back to the normal game again.
Payouts Bonus Games
You win money on each square of the board (prizes depand on your bet and value of the square)
Houses and Hotels are built during the game. Prizes increase on squares with houses and hotels on it
Chance or Community chest. You either win a random prize or you have to pay tax or fee. Fees and taxes will be deducted from your winnings
Tax – Your winnings will be reduced with 10% or 20%
Passing "Go" – All prizes on the board will be doubled when you pass the "GO" square
Go To Jail – You can only leave jail when you roll a double with the dice
Step By Step Guide – Start playing within a few minutes
Choose a casino with Monopoly Live (We recommend CasiGo or JackpotCity)
Open the casino
Register a free account
Verify your account
Login to your new account
Choose a payment method and deposit amount
Make a real money deposit
Open Monopoly Live at the casino
Choose your bet value
Place bets on a number, or on a bonus segment
Wait till the casino host spins the wheel
Wait and see if and what you win
Enjoy this amazing game
Frequently Asked Questions Monopoly Live
Can I play Monopoly online?
Yes you can. At reliable online casinos you can play Monopoly while sitting in the comfort of your own home.
Can I play Monopoly live with real money?
At online casinos you can only play Monopoly live with real money. There is no free play mode or fun mode available. You could watch the game for free. But than you can't place any fun bets.
How can I play Monopoly online?
Before you can play live Monopoly you have to open an account at an online casino. Ofcourse you have to open an account at a casino that offers Monopoly at their casino. Make a deposit and open the game when you want to play the game.
Is Monopoly a legal game?
Yes it is. Evolution Gaming has the rights to operate this game online.