There's a new game in town! Playtech launched their brand new gameshow and time it's based on a really popular TV-Show, 'Who Wants To Be A Millionaire?'. Everybody knows this show from TV and now you can play this game live at online casinos. Playtech worked together with Sony Pictures Television and created this game show. The game is a mix of classic Roulette and Who Wants To Be A Millionaire (WWTBAM), now you can play Who Wants To Be A Millionaire Live Casino. Players can get multipliers up to 2.000x!
For players who know Playtech, they may know Quantum Roulette. This new game is based on Quantum Roulette, but with much more features. The release was just a few days ago, but there are already hundreds of players who play this game.
Table of Content:
How it Started
Everybody knows the popular TV-show 'Who Wants to Be A Millionaire'. And this is now transformed into a real game show from Playtech. Playtech arranged a deal with Sony Pictures Television to make new innovative Live Casino games. Who Wants to Be A Millionaire Live Roulette is the first step they took together. This news came out just a few days ago and they've arranged a deal for 5 years. Within this period they want to create at least 3 complete innovative live games. All these games will be based on the WWTBAM TV Show. Maybe they can create a Game Show out of other TV Shows. They didn't say anything about their ideas yet. If they do, you can find it in our news section!
Playtech wants to transform famous TV-shows into live casino games, 'Who Wants to Be A Millionaire' is the first one! Playtech is an established name in the live casino market. This exciting news is an amazing step for Playtech and Sony Picture Television. They want to create 3 new spectacular game shows based on the TV-Show Who Wants to Be A Millionaire.
Base Game
The base game is based on normal classic Roulette Live. You can bet on all the normal betting options you're used to. Most of the casino players have played Lightning Roulette before, this game works the same.
First you have to bet on your numbers. Only inside bets count if you want to trigger the bonus round.

A Random Number Generator will pick 1 to 10 numbers and will add an multiplier or bonus round to them. These numbers will be highlighted.

The wheel will start spinning

Hope that you hit your lucky numbers!
The game really gets interesting when you hit one of the bonus rounds. You can get some increased multipliers, like Quantum and Lightning Roulette, and you can unlock the Millionaire Questions. A few tips when you play Who Wants To Be A Millionaire Live Roulette;
Use Bet Creator – You can create a couple of bets which you like. Try some different strategies and you can save them. When you come back to play WWTBAM, you have your bets saved for this the next time.
Use Auto-Play Rounds – It can be frustrating when you are too late to bet. That's why the Auto-Play feature is perfect. You can choose how many spins you want to bet on. The computer will bet automatically for a predetermined amount of times.
The Bonus Rounds
Everybody plays this game for the bonus rounds of course. If you don't, just play classic Roulette and don't play this game. At Who Wants To Be A Millionaire Live Roulette there are some really interesting bonus rounds. Below you can find all the increased multipliers and bonus rounds you can get;
Increased Multiplier – This is a random multiplier, varying from 50x to 250x, that increase your potential winnings.
The Question Mark "?" – There are two types of question marks you can hit, a purple and a blue question mark. The bonus round works the same, but the multipliers are different. A Blue Question Mark gives you a 50x and a Purple Question Mark gives you a 100x. When you hit one of the multipliers you get two options;
Play 5 Millionaire Question

Take the 50x or 100x multiplier
When you decide to choose for the 50x or 100x, you claim your multiplier and you have to wait for the next round to start. But you can also choose the 5 Millionaire Question. The first 3 questions will give you a guaranteed multiplier. The fourth and fifth question only have 3 and 2 multipliers. If you answer a question wrong, so you pick the 'X', you're out of the game.
The WWTBAM Logo – If you hit the logo of Who Wants To Be A Millionaire, you hit the best bonus round. This bonus round works a bit little like the Question Mark bonus round. There are also two options you can get. When you get the Bronze Logo you get 8 Millionaire Questions and when you get the Gold Logo you get 10 Millionaire Questions. There are 5 guaranteed multipliers, after the guaranteed multipliers you need to avoid the 'X'. The multiplier can go up to 2.000x!
Life Lines
Within these bonus rounds, there are also Life Lines. Everybody who has seen the TV Show knows these Life Lines. These Life Lines can help you to find the best multiplier! There are three multipliers that can help you.
50/50 – The computer will remove two answers. This will leave you with two possible multipliers.

Ask the Audience – The 'Audience' will pick the best answer for you.

Ask the Host – The host will remove the lowest multipliers!
Important Things You Need to Know
The bonus rounds can only be triggered when you place inside bets (Single number, Split, Street, Corner or Line);

Payouts on inside bets are lower in comparison to classic Live Roulette;

A RNG computer will pick between one and ten numbers that will have an increased multiplier or bonus round;

Avoid the 'X' when you've hit the bonus round. When you pick the 'X' the bonus rounds is over for you;

The bonus rounds have different payouts;

The maximum payout of a bonus round is 2.000x, which is extremely high for Roulette;

Not all online casinos offer you WWTBAM;

If you're looking for yourself for an online casino with WWTBAM, look for online casinos with PlayTech Live Games;
Where can I play Who Wants To Be A Millionaire Live Roulette
This game is just a few weeks old, so not all the online casinos offer this game show yet. That's why some players can look for hours to find this new game show. But that's not necessary for our visitors. We've already found an online casino where you can play Who Wants To Be A Millionaire Live Roulette.
Featured Casino – Joo Casino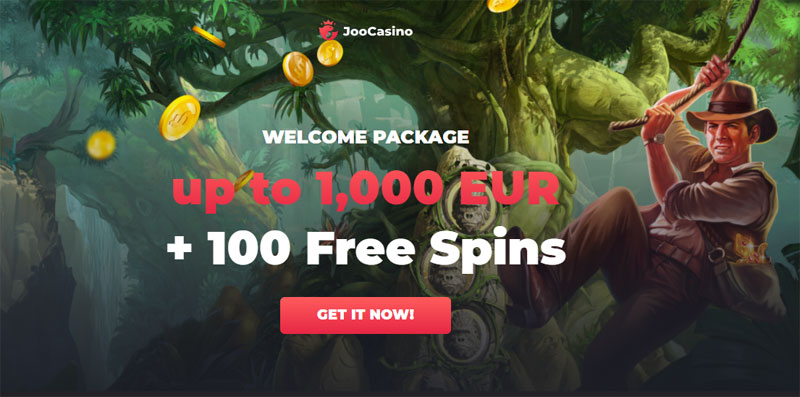 Joo Casino is part of N1 Partners. N1 is famous for their amazing looking casino and the best bonuses. Their website is really user-friendly and they really care about their players. When you join Joo Casino you can claim an amazing Welcome Bonus Package. You can claim a bonus on top of your first 3 deposits;
First Deposit Bonus – 100% up to €/$200 + 50 Free Spins

Second Deposit Bonus – 50% up to €/$300

Third Deposit Bonus – 50% up to €/$500 + 50 Free Spins
 The Live Casino section at Joo Casino is also pretty amazing. They offer games from 8 different software providers. There are not many online casinos that offer you this amount of software providers. You can play games from Evolution Gaming and Pragmatic Play, but most importantly PlayTech. This means that they also offer you Who Want To Be A Millionaire Live Roulette.
Do you want to play at Joo Casino? Click on this link and you can play WWTBAM within minutes!
RTP & Payouts
The RTP and payout of these games are slightly different in comparison to normal Live Roulette. Most of the time when a game has bonus games, they are lowering the payouts anywhere else. This also happened at Who Wants To Be A Millionaire Live Roulette. At normal Roulette a single number will pay you 35:1, but with WWTBAM Roulette a single number 29:1. All the inside bets have a lower payout, because these are the bets that can trigger the bonus round. The outside bets have the same payout as normal.
Straight-Up – 29:1
Split (2 Numbers) – 14:1
Street (3 Numbers) – 9:1
Corners – (4 Numbers) 6.5:1
Line – (6 Numbers) 4:1
Strategies for Who Wants To Be A Millionaire Live Roulette
It's always good to stick to a strategy when you're playing a Roulette game. That's why we will give you some strategies that you can use. The strategy for this game is a little different from normal Live Roulette. Obviously, you want to hit the bonus round. So it's important that you spread your chances and keep your losses as small as possible.
Hitting a Millionaire Number is pretty hard to achieve, so see it as a gift or like a side-bet. It's nice to hit, but don't play for it!
Guaranteed Millionaire Number
The Millionaire Number is very rare to hit of course. That's why it's extra disappointing if it hits a Millionaire Number, but you didn't bet on it. If you want to play the bonus round when it hits a Millionaire Number, you have to bet on every number. You can use this strategy if you don't want to miss any bonus round. This strategy is risky, because you lose money every time it doesn't hit one of the bonus rounds.
For example: You bet on every by betting on 6 Line Bets. That's the minimum you have to bet if you want to cover all the numbers. You bet €/$1 on the 6 Lines, you bet a total of €/$6. You're guaranteed to hit one of the numbers of course (except for the 0). You will win €/$5 if you don't hit a bonus round, so you lose €/$1 every spin without a bonus round.
Your bankroll will slowly decrease unless you hit some bonus round. The Millionaire Round can pay up to 2.000x, so that's your chance to top up your balance.
Medium Risk Strategy
I think that this is the best strategy, I've used this strategy when I played Who Wants To Be A Millionaire Live Roulette.
I like to play the French Bets, because you cover a specific part of the wheel with these bets. So you bet less in comparison to the strategy above, but you cover multiple numbers.
Most Roulette wheels offer you the option to see what numbers are hot and cold, or you can see percentages of the wheel that hit the most. I always use this to set up my bet. The selections used most of the time are Voisins du Zero, Orphans and Tiers du Cylindre. The one with the highest hitting percentage is the way to go!
Frequently Asked Questions – Who Wants To Be A Millionaire Live Roulette
Where can I play WWTBAM?
It's not only possible to play this game at Joo Casino. You can also play WWTBAM at N1 Casino. This casino is also part of N1 Interactive and also offers some amazing Bonuses & Promotions.
Who developed WWTBAM?
This Game Show is developed by Playtech, but together with Sony Pictures Television. They signed a 5 year deal together and they want to create lots of other Game Shows. They've used the knowledge and technology of Playtech and the ideas of Sony to create this Live Game Show.
How does this game work?
This game is based on a Roulette game. The base of the game is Roulette, just like Quantum and Lightning Roulette. But with WWTBAM you can trigger extra bonus rounds and get a multiplier up to 2.000x!
Is WWTBAM a Live Casino Game?
Yes, you may know the slot of WWTBAM, but they transformed this into a Live Game Show. Playtech and Sony tried to combine the success of WWTBAM the TV Show, the popular slot of this TV show and Live Roulette.
What can we expect from Playtech and Sony?
I think we can expect a lot more from this partnership. The CEO of Playtech came with the following statement;
"Playtech Live wants to deliver the best possible live casino entertainment. We're extremely proud that we can work with the Who Wants To Be A Millionaire? brand. I'm sure that online players enjoy the unique experience with this brand new game!"